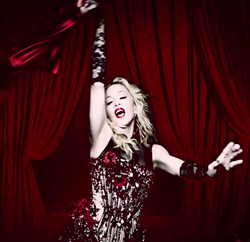 Our crystals get used in such interesting ways...from decorating custom chandeliers in world-class hotels, to covering costumes at major ballroom competitions, and now, to outfitting Madonna
New York, NY (PRWEB) February 19, 2015
Diamonds may be a girl's best friend, but crystals are the 'Queen of Pop's.' In her newly premiered "Livin' for Love" music video, Madonna steals the screen in a custom corset by The Blonds with thousands of precision-cut Czech crystals.
Madonna is just one of many music moguls to recently turn to fashion design duo The Blonds, and thus, the beautiful Preciosa crystal components they use. "It's an incredible honor to see one of music's greatest icons wear a Blonds piece," says David Trujillo of The Blonds, whose Fall/Winter collection featured Preciosa this February during New York Fashion Week. "You could say designing her outfit with Preciosa was just 'Blond Ambition!'"
Madge isn't the first to shine in Preciosa. Teen dream Ariana Grande performed at the 2014 MTV Music Awards in a Preciosa diamond-encrusted bodice, and singing sensation Stacy "Fergie" Ferguson captivated California in a multi-colored Preciosa piece while hosting the west coast version of 2015 New Years' Rockin' Eve with Ryan Seacrest.
"Our crystals get used in such interesting ways," says Klara Kasparova, Area Trade Marketing Manager of Preciosa, "From decorating custom chandeliers in world-class hotels, to covering costumes at major ballroom competitions, and now, to outfitting Madonna!"
The Czech brand Preciosa entered into the American fashion world in 1950. The company is best known for its fine, lead-free MAXIMA crystals, on top of its broad range of precision-cut crystals, beads, and nacre pearls. Their crystal components are a hit among many well-renowned U.S. fashion and jewelry designers due to their ease, grace and beauty.
For more information on the brand, please visit preciosa.com.