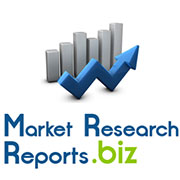 Albany, NY (PRWEB) February 19, 2015
According to the report, the global offshore oil market will display a 2.7% CAGR, while the global gas market will display a 1.9% CAGR during the forecast period of 2014 to 2019.
View Full Report at http://www.marketresearchreports.biz/analysis/243899
The offshore oil and gas extraction process takes place mostly in the seabed and oceans. Oil and gas is extracted from wells and is transported through ships/pipelines to refiners. The depletion of onshore oil and gas resources is the primary driver of the offshore oil and gas industry. In the past two decades, the growing interest in offshore oil and gas activities is due to larger number of offshore discoveries compared to onshore discoveries. Greater E&P (exploration and production) activities are taking place in remote locations and deeper waters. Advancements in technology have led to the expansion of the offshore oil and gas industry to deeper waters. In the past six decades, offshore production has grown by leaps and bounds.
Download Detail Report With Complete TOC at http://www.marketresearchreports.biz/sample/sample/243899
The global offshore oil and gas market, according to drilling activity, is segmented into deep water drilling and shallow water drilling. Previously, floating production facilities were primarily used for production. However, this trend has shifted to floating production as these facilities have become the main solution for offshore production. The four main types of floating production facilities in the offshore oil and gas market are: tension leg platforms (TLPs), floating production storage and offloading (FPSO), spars, and production semi-submersibles. According to MODEC, a company involved in design and construction of offshore construction vehicles, there are approximately 160 FPSOs, 20 spars, 20 TLPs, 100 floating storage and offloading vessels, and 40 production semi-submersibles currently operating in the world.
The key market challenge for offshore oil and gas market is environmental concerns. Offshore oil and gas production projects tend to impact water, air, and wildlife. Hence, companies need to invest in safety initiatives to reduce their impact on the ecology. Independent experts and government officials are required to assess the impact of any oil and gas production project before it is implemented.
Explore All Published Reports by same Publisher at http://www.marketresearchreports.biz/publisher/73
The global report on offshore oil and gas market provides an in-depth evaluation of this industry with key insights from industry experts. The report covers the global offshore oil and gas market competitive landscape and its growth prospects during the forecast period. In addition, a detailed analysis of the prominent vendors in the market is covered in the report. The top vendors in the offshore oil and gas market include Chevron, BP, Royal Dutch Shell, ExxonMobil, and Total.
About MarketResearchReports.biz
Marketresearchreports.biz (http://www.marketresearchreports.biz) is the most comprehensive collection of market research reports, supporting clients' market intelligence needs with over 100,000 market research reports, company profiles, data books, and regional market profits in its repository. We also offer consulting support for custom market research needs.
Our document database is updated by the hour, which means that our customers always have access to fresh data spanning over 300 industries. From Fortune 500 companies to SMEs, Marketresearchreports.biz has built a veritable reputation for fulfilling the most exacting market research needs.
Contact:
State Tower
90 State Street,
Suite 700, Albany
NY 12207, United States
Toll Free: 866-997-4948
Email: sales(at)marketresearchreports(dot)biz
Browse Blog at https://businessmonitorinternational.wordpress.com/