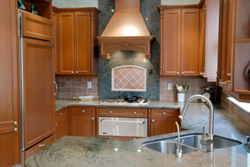 The majority of models designed to fit this niche are found in the stainless steel line of MR Direct sinks.
Toledo, Ohio (PRWEB) February 20, 2015
Across the country, in many facets of life, the on-going trend is to down-size. Smaller cars, smaller homes and in-turn smaller kitchens are becoming more common. To address this issue of limited space, MR Direct has been focusing on providing smaller than average sinks which still retain enough breadth and depth to maximize their functionality.
The majority of models designed to fit this niche are found in the stainless steel line of MR Direct sinks. At least one model in each sink format is presented to accommodate the kitchen where space is at a premium. For example, the 530L is an offset-bowl style; and though smaller than the largest offering in its category by 7 ½″, it still manages to provide a 14″ x 16" large basin and a 10½″ x 16″ smaller one. Similarly, the 510 model, the most recent introduction in the equal-sized bowl category, has an overall width which is a full 4 ¾″ narrower than the widest comparable version; yet it boasts two 13″ x 16 ½″ bowls of a 7¼″ depth. In the single bowl category, two models draw attention. The 2318 has a rectangular shape extending 23″ across and 17 ¾″ front-to-back with an exceptional depth of 9 ¼″. The increasingly popular D-shape sink is represented in the 2118 model. At 20 1/8″ x 17 ¾″ its asymmetrical design provides more useable sink space by allowing the faucet to be tucked in either back corner.
Even styles which are traditionally considered to be bar sinks are being used in small kitchens. MR Direct has five stainless steel models in this category which are available in round, square or rectangular shapes and ranging from 15″ to 20″ in their longest measure. Additionally, modest-sized sinks are available in the 90°, topmount, and ¾ radius stainless steel formats.
The small sink options don't end with the stainless steel models. MR Direct has a porcelain design, the 460, for situations requiring an extra narrow sink which is still deep front-to-back. A nearly square Tru-Granite sink, the 805, features the unique characteristics of its quartz-acrylic construction. And finally, the 905 hand-hammered copper sink, with a single bowl interior measurement of only 12 ½″ x 8 ½″, offers the classic look.
Down-size doesn't have to mean doing without. MR Direct has made every effort to turn limited kitchen spaces into efficient work locations without sacrificing quality. Watch for more space-saving ideas in the near future. The full selection of MR Direct economy-sized sinks can be viewed at http://www.MRDirectint.com.