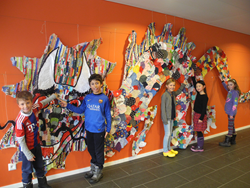 "We encourage our students to be culturally sensitive. Developing an international mindset is extremely important for our students, since cultural awareness is essential for effective participation and acceptance in a globally interdependent world"
Lausanne, Switzerland (PRWEB UK) 19 February 2015
International School of Lausanne International Day and Chinese New Year celebration improves intercultural awareness
Lausanne, 19 February 2015 – Today, more than 600 students at the International School of Lausanne (ISL) are celebrating International Day and Chinese New Year. "We encourage our students to be culturally sensitive. Developing an international mindset is extremely important for our students, as cultural awareness is essential for effective participation and acceptance in a globally interdependent world," said Lyn Cheetham, Director, ISL.
To celebrate the two days, the Primary students created a Chinese dragon by bringing fabric from their home countries. The fabric symbolizes the more than 50 nationalities at ISL.
A school-wide approach
ISL has uniquely moved from theory to practice in the journey of improving the students' intercultural awareness through three major initiatives; embedding global understanding into the curriculum, developing a homeroom programme, and creating a student organisation to celebrate the rich diversity of culture especially within its own community.
The curriculum offers a number of relevant subjects and concepts to study including conflict resolution, social justice, values and perceptions, sustainable, development, interdependence, human rights, diversity and perspective. Using ISL's curriculum mapping software the teachers and the school's management can now see exactly where and when its students are considering global understanding issues.
The homeroom is the heart of the pastoral programme, a time when many students interact with one another. For example in Year 6 the students present a special part of their own culture, in Year 7 they are encouraged to spend time with a fellow classmate outside of school hours by being invited home for a family meal and in Year 8 the students investigate and present a totally different culture while making comparisons to their own.
The culture and community club aims to spread cultural understanding and develop the skills necessary to be an effective member of the community. The CC Club has recognised and celebrated many different events including The Hindu festival of Holi, Hanukkah and the Mexican celebration of El Dìa de los Muertos (the Day of the Dead). As a culmination activity last year, the CC Club members travelled to Morocco where the students engaged in the full range of cultural experiences Morocco had to offer, including being invited to a local family's home for a typical evening meal.
For more information:

About ISL
The International School of Lausanne, an international IB English language not-for-profit school for students from three to 18 years old, prepares students to excel and contribute to a changing global environment. ISL will open its brand new campus in August 2015. The new facilities will feature a performing arts and drama centre, new science labs, recording studio, triple gymnasium, an early childhood centre for our youngest students, and more. The IB Diploma programme has also expanded to include more subject areas. Admissions now open for 2015-2016. http://www.isl.ch