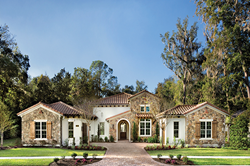 Tampa, FL (PRWEB) February 18, 2015
A new article by Arthur Rutenberg Homes reveals the benefits of building a custom home on a customers existing lot they own, or after they have found a location they have to have.
The article discusses the five smart reasons for building custom when families or individuals have found the perfect location. There are many reasons for actually choosing lots including the view, access to interests or hobbies, or proximity to their business.
One of the article points discusses the needs of the higher-end buyer, who may not want the constraints of a community homeowner association rule book. The article illustrates that many luxury home buyers have different requirements, including larger garages, out-buildings for business interests and even helicopter landing areas.
The article also does a good job of recommending that lot buyers enlist help from a competent builder or surveyor to make sure the land can be properly built on and the home they want actually works for the area. Additionally, certain lots will have additional construction costs due to their locations, etc.
Read the full article on luxury homes on custom lots here.