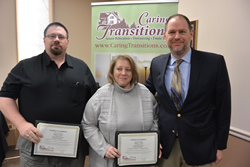 Allentown, PA (PRWEB) February 19, 2015
Ingrid and James Green are looking forward to providing unique relocation and estate sale services to the Lehigh Valley through their new business, Caring Transitions of the Lehigh Valley.
Caring Transitions is America's largest resource specializing in managing relocations for seniors and busy families as well as downsizing and estate liquidations. In addition to the organizing, packing and move oversight, Caring Transitions can handle on-site and online estate sales, liquidations, and preparing homes for market. Caring Transitions of the Lehigh Valley serves Allentown, Emmaus, Macungie, Coopersburg, Alburtis and the surrounding communities.
Opening their own business all started when Ingrid, then an IT Director, found herself without a job after 25 years with the same company when the business was sold and downsized. The couple had long discussed becoming small business owners and this was the perfect opportunity to pursue that dream.
"We decided that, if we were going to make a change, this was the time. We looked at franchises over the years and came across Caring Transitions on the Entrepreneur Magazine list. We worked with a franchise consultant, but when it came down to it, we just liked the idea of Caring Transitions. This is a company that's unique and that offers services others don't. Plus it allows us to serve seniors in our community as well as their families," Ingrid said.
Whether your situation is planned or unexpected, Caring Transitions' services are perfect for busy families, seniors moving in with family or into a safer living situation, or families clearing out the home of a loved one who has passed.
James has worked in a variety of logistics roles and as a freelance graphic designer after going back to school for a graphic design degree. In all of those positions, he had to master general project management, client solutions, logistics and problem solving. Those are skills both James and Ingrid are looking forward to bringing to their Caring Transitions clients.
"We are committed to working with each and every client to determine what they need and how we can help – whether it's just hosting an estate sale or providing our full suite of services. Working with Caring Transitions allows families to spend time with their loved ones while handing over the stress of what can be a truly challenging and emotional situation," James said.
James grew up in Lehigh Valley and the two met while attending Muhlenberg College in Allentown. The couple graduated in 1989 and has been together and living in the area ever since. James is involved with local fraternal organizations and the family is very involved with their church and their son's school. James is especially looking forward to taking great care of the possessions of clients.
"I've always enjoyed the stories behind the items you see at auctions and estate sales. There is so much history in our area and, as part of Caring Transitions, we can ensure that those special items are taken care of in the best way possible. Whether we're moving you across town into a new home or auctioning it to a new family, we know those items are important," James said.
Caring Transitions is a trusted and highly respected national company leading the way in senior relocation, household liquidations and estate sale management in more than 150 locations across the United States.
For additional information about Caring Transitions and to learn how the company can help you and your family, call (610)904-8093, email IGreen(at)CaringTransitions(dot)net or JGreen(at)CaringTransitions(dot)net, or visit http://www.CaringTransitionsLehighValley.com.
About Caring Transitions
Caring Transitions, founded in 2006, is the first national franchising concept specializing in senior relocation and transition services. With 150 locations throughout the United States all owned and operated by Certified Relocation and Transition Specialists, Caring Transitions provides clients with supportive moves, auctions, rightsizing and transitions. This includes expert advice plus a well-executed transition plan beginning with the initial sorting of personal belongings through packing, shipping and selling of items to the final clearing and cleaning of the property. For more information, visit http://www.caringtransitions.com or visit us on Facebook or Twitter.
Caring Transitions is part of Strategic Franchising Systems. It is a member of the International Franchise Association, the Small Business Association's Franchise Registry, VetFran and Minority Fran.