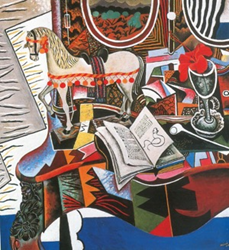 Miró loved the powerful, unique influence of writing, and he loved to read.
Düsseldorf, Germany (PRWEB) February 18, 2015
Looking at a Miró painting can be like looking into another universe. The essence of his work was giving birth to a new world through painting, the way poetry can do through words. He loved the powerful, unique influence of writing, and he loved to read. How the effect of literature expressed itself in Miro's painting – and how his paintings did the same for the literary world of his time – is the unique focus of "Miró – Painting as Poetry," the new exhibit at Düsseldorf's K20 Museum, June 13-September 27, 2015.
Miró's work wasn't just influenced by the mere words he read, but he spent much time in literary circles and befriended many of the authors that inspired him – which is another aspect the show explores. After Miró left his native Barcelona and moved to Paris at the age of 27, the studio building he moved into became a center of literary Paris. Some of the writers from that time are among the biggest sources of his inspiration, such as Tristan Tzara, Robert Desnos, Paul Éluard and Michel Leiris.
Just the same, Miró's work inspired the writing of many contemporary poets, and he collaborated on several projects with writers, such as book illustrations. About 250 books with illustrations by Miró are part of the exhibit, in addition to about 50 paintings representing all of the artists creative periods.
The exhibit includes loans from world-renowned collections and institutions, including the Philadelphia Museum of Art and the Museum of Modern Art (MoMA) in New York.
For further information on the exhibition, please visit: http://www.kunstsammlung.de/.
Düsseldorf's tourism office is offering hotel and city specials for stays in 2015. The package, called "Düsseldorf à la Card," can be booked right from the tourism office's website at https://www.duesseldorf-tourismus.de/en/accommodation/hotel-packages/duesseldorf-a-la-card/. Prices start at €49 per night per person based on double-occupancy for a 2-3-star hotel in the city center and at €95 per person for a 4-star hotel. The package includes breakfast, one DüsseldorfCard (free public transportation within city limits plus 30 free or reduced admissions to city attractions), and a city information package. Please check the website for current information.
# # #
Düsseldorf Marketing & Tourism GmbH is the visitors and convention bureau of the city of Düsseldorf. Its responsibilities include tourism and city marketing, as well as conference and meeting marketing, hotel reservation services, fairs and convention services, city event ticket sales and advance ticket reservations. For more information, visit http://www.visitduesseldorf.de.
Düsseldorf Airport, Germany's Next Generation HubTM, offers several non-stop flights from US & Canadian cities (Atlanta, Chicago, Ft. Myers, Los Angeles, Miami, New York, Newark), as well as convenient connections to many European cities. For more information about the airport, visit http://www.dus.com.