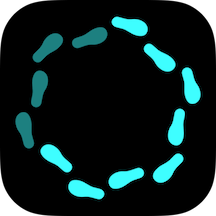 TodaySteps is a great app. I love the way I can keep track of my activity with an iOS 8 widget. I love the neon colors, too!
London, UK (PRWEB) February 19, 2015
Flying Code, an independent studio with a focus on developing simple, easy-to-use and fun iOS apps, has just released its first app, TodaySteps. Designed to take advantage of the iPhone 5S/6/6+'s cutting-edge internal processor, TodaySteps is a simple pedometer that tracks a user's daily physical activity, including number of steps walked, calories burned, flights of stairs climbed and distance travelled – even when the app is not open. The iOS app features a visually stunning interface to make body health awareness fun and easy to manage. It also features an iOS 8 widget that allows users to view and compare the last three days of progress on the iPhone's lock screen.
"TodaySteps is a great app," says one user. "I love the way I can keep track of my activity with an iOS 8 widget. I love the neon colors, too!"
Another user adds, "I think TodaySteps is absolutely fantastic. I love its beautiful simplicity. It's close to perfect for me."
With its streamlined appearance and clear-cut focus, TodaySteps takes care of the technicalities behind the scenes so users can meet and exceed their fitness goals. Users can even input a daily step, distance, calorie or floor goal for added incentive, tracking and comparing up to the past seven days of activity when the iPhone is rotated to landscape orientation. Unlike other tracking apps, TodaySteps strips away confusing and unnecessary settings and instead sticks to the basics, helping users focus on taking one step at a time to a healthier lifestyle.
Pricing and Availability
Start tracking your steps today by downloading TodaySteps, now available for purchase through the Apple app store for just 1.99 USD.
Members of the press are invited to review TodaySteps; to request a review license, please contact Anya Oskolkova. For images and other press related inquiries, download the TodaySteps press kit at http://www.todaysteps.com/.
About Flying Code
Flying Code is a small, independent studio focused on iOS mobile apps. Our main goal is to make simple, easy-to-use and fun little apps.