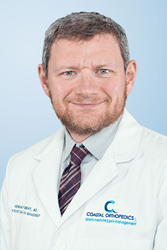 "Most headache sufferers can treat their pain with diet and lifestyle modifications and basic medicine, but if a case is severe, that's when you need a headache specialist," Dr. Gekht says.
BRADENTON, Fla. (PRWEB) February 18, 2015
Coastal Orthopedics Pain Management Specialist Gennady Gekht, M.D. recently joined the ranks of a select group of 520 American physicians when he earned his certification as a headache specialist from the United Council for Neurologic Subspecialties. To even qualify to take the 200-question exam applicants must pass before earning the distinction, Dr. Gekht was obligated to meet a number of educational and professional requirements, plus specialize in headache medicine for at least 25 percent of his practice for a 36-month period. In addition, he is the only headache specialist in the state of Florida with training in cervical spine injections.
"Most headache sufferers can treat their pain with diet and lifestyle modifications and basic medicine, but if a case is severe, that's when you need a headache specialist," Dr. Gekht says. "We can try cervical injections or occipital nerve stimulation, or we can do injections in the neck to ablate and cauterize small nerves."
Headaches are one of the world's most common nervous system disorders—affecting more than half of adults around the globe every year. Among those who experience headaches, 10 percent suffer from regular migraines, according to the World Health Organization, and almost 2 percent of the world's adult population suffers headaches on 15 or more days each month.
"Whatever procedure we decide on, our overall goal is always to reduce the amount of medication our patients are taking and increase their ability to function," said Dr. Gekht.
Headaches aren't just painful. They're also debilitating, damaging family and social life and employment. The World Health Organization estimates that depression is three times more common in people with migraines or severe headaches than in healthy individuals.
As the main certifying body for American neurologists, the United Council for Neurologic Subspecialties offers the only accreditation in headache medicine, and only 520 physicians in the United States have met the Council's stringent standards. With his certification, Dr.Gekht becomes the only recognized headache specialist between St. Petersburg and Fort Myers.
Dr.Gekht has specialized in neuromuscular disorders and interventional pain management since joining Coastal Orthopedics in 2006. A graduate of Emory University, where he served as chief resident, Dr.Gekht also completed a fellowship in pain management at the Mayo Clinic, where he worked as a clinical and academic staff member responsible for teaching and research.
Dr. Gekht says a major problem he encounters regularly is over-medication.
"In the United States, patients are bombarded with advertisements about over-the-counter headache medicines, and many end up taking an inappropriate medicine that actually worsens their headache," Dr. Gekht says. "We help our patients clean up their regimen, and we'll suggest injections, physical therapy, acupuncture, biofeedback and more to help them cope."
One lesser-known treatment for migraines is Botox, known primarily for its wrinkle-preventing cosmetic properties. "Botox has been shown to significantly benefit patients with severe migraine disorders, people with more than 15 days of headaches a month," Dr. Gekht says.
Coastal Orthopedics and Dr.Gekht pride themselves on offering a wide range of headache treatments all under one roof. "We are the only team in town to offer everything from Botox to nerve blocks and occipital nerve stimulation," Dr.Gekht says. "Our primary objective is to help patients return to their daily lives, pain free."
About Coastal Orthopedics Sports Medicine & Pain Management
Founded in 1973 and based in Bradenton, Fla., Coastal Orthopedics is home to 16 orthopedic surgeons and pain management physicians who maintain hospital affiliations with Blake Medical Center, Manatee Memorial Hospital and Lakewood Ranch Medical Center. In addition to three offices and two surgery centers each servicing Florida's West Coast, Coastal Orthopedics' board-certified and fellowship-trained physicians and surgeons provide patients with the very latest in pain and orthopedic treatment technology. The company strives to repair and heal injuries relating to the entire musculoskeletal system. For more than 40 years, the highly skilled staff of physicians and surgeons has treated patients in specialty care including sports medicine, joint replacement, pain management and rehabilitation. Patients can experience restoration of function both surgically and non surgically, through the use of physician-guided strengthening, therapy, medications, injections and stretching. For more information, visit coastalorthopedics.com or call 941-792-1404.