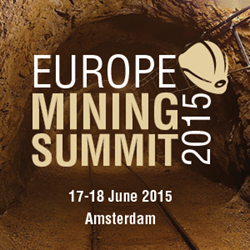 It's an IRN Summit!
London (PRWEB UK) 19 February 2015
Europe as a continent is one of the richest in natural resources, with a long tradition of being active in mining. Still today, the mining industry in the region is very prosperous, with new techniques and technologies being implemented and developed, that are constantly leading the continent to benefit from its mining resources and wealth. However, the European Union's target is now to discover new mining deposits for Europe to become self-sufficient in terms of minerals, metals, and metal ore; and curb its important metals import rate.
The Europe Mining 2015 Summit, organised by Global Summit Organiser, IRN, on 17-18 June 2015, will be the only Summit focusing on industry developments for European mining in recent years, with dedicated focus on future plans for further development. Hosted at a 5* venue in the heart of Europe, in Amsterdam, the Summit will give the audience the opportunity to meet with the Regulatory Authorities, Investment Bodies, Mining Companies, Service and Equipment Providers responsible for all major mining projects in Europe to discuss the current and upcoming business opportunities in the European Countries.
The respectable Speaker Faculty, composed of very senior level experts such as Ministers of Natural Resources, representatives of leading European mining companies, principal Academics, analysts and geologists as well as investment and law officers; will provide general sessions around the regulatory framework and outlook of the European mining industry. Additionally, there will be case studies looking at what is happening in terms of mining in specific European countries, such as Greenland, Sweden, Turkey, Spain, Poland, Ireland and Albania, amongst others.
Registration for the Summit is now open and an early bird discount is available for preferential rates until 6th March.
More information can be found on the website http://www.europeminingsummit.com
The official Twitter hashtag to join the discussions about the forum is #EuropeMining.