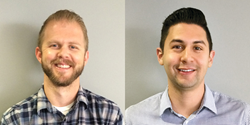 Newport Beach, CA (PRWEB) February 19, 2015
Orange Label Art + Advertising, an Orange County marketing and advertising agency, has recently grown their client base with account wins: Kahoots Feed and Pet, a Southern California regional chain of pet supply stores; Pacific Architectural Millwork, an Orange County-based designer and manufacturer of high end windows and doors; and PharMedQuest, a specialty healthcare management firm; among others. In response, Orange Label has added Marcus Johnson, Graphic Designer, and Andrew Franco, Jr. Account Executive, to its talented team to service its new and existing client base.
An Orange County native and Cal State Long Beach graduate, Marcus joins the Orange Label team with diverse illustration, graphic design and production experience gained at Yard House, The Refinery and Wireless Emporium. Marcus practices the arts both in and outside of Orange Label, drawing and painting for leisure, as well as spending time and watching movies with his wife and son.
Also born and raised in Orange County, and a graduate of Cal State Fullerton, Andrew joins Orange Label from Western Digital with an extensive background in sales marketing and digital analytics. When asked why Andrew has made the move to Orange Label, he commented, "I have chosen Orange Label because they, like myself, share in the belief of creativity, self expression, hard work and responsibility to produce success for clients."
Orange Label is thrilled to add two talented new team members to its integrated advertising team to support the marketing firm's remarkable growth. The ad agency's recent move to 4000 MacArthur further encourages expansion in team and client base, allowing for a considerable increase in square footage and embracing a more collaborative environment that supports the agency's brand and mission, is conducive to employee work/live lifestyles and stimulates creativity and strategic thinking.
ABOUT ORANGE LABEL ART + ADVERTISING
Orange Label Art + Advertising is one of Orange County's longest-standing privately held advertising agencies. Founded in 1972, the agency currently represents clients from across the United States, in a broad range of specialties, including B2B, Healthcare, Education and Retail. Key current clients include Chapman University, Friar Tux Shops, Dameron Hospital and Greenwell Farms. The agency principals are Wes Phillips, Rochelle Reiter and Debbie Nagel. Key Orange Label differentiators include its 'Orange Exploration™' fact-finding approach, powerful 'View from the Field™' research technique and 'The Juice,' a different-and-better client branding method. For more information about Orange Label Art + Advertising, visit http://www.orangelabeladvertising.com.