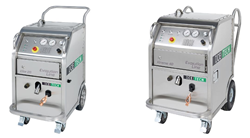 Our goal was to create a universal, more powerful and cost-effective dry ice blasting machines to meet the highest demands of the industry. The new Evolution Line combines all these features
West Chester, OH (PRWEB) February 19, 2015
IceTech, the worldwide leading manufacturer of dry ice blasting and dry ice production equipment announces the official launch of the new Evolution Line. The new product line combines versatility and solidity with a new design. The Elite 20 and Xtreme 40 are the world's first multi-power dry ice blasting machines created to provide customers the most powerful and cost-effective solution on the market.
The Evolution Line provides the perfect universal dry ice basting experience. Its functionality and versatility makes it suitable for both lighter applications to extremely heavy duty cleaning. The powerful 24V motor ensures an uninterrupted cleaning. The new, quick change dosing disc allows for a faster replacement, which leads to shorter downtime and lower maintenance costs. The insulated dry ice hopper extends the life of the dry ice, and provides trouble-free blasting. The two-step trigger gun gives the option to blast with dry ice and air, or air only. A stainless steel frame provides a high strength, scratch-resistant machine designed to keep up with the toughest conditions.
"We have provided an excellent solution for our customers by carefully listening to their needs. Our goal was to create a universal, more powerful and cost-effective dry ice blasting machines to meet the highest demands of the industry. The new Evolution Line combines all these features, and together with the ergonomic design we provide the perfect dry ice blasting system." – says Peer Moerk, Chairman of IceTech.
About IceTech
IceTech is a worldwide leading manufacturer of high performance and reliable dry ice blasting, dry ice production equipment and complete automated solutions. IceTech has continued to change the industry with technology and support unmatched by anyone since their founding year. Through their network of distributors and direct sales force, IceTech has supplied equipment all over the world.
About Dry Ice Blasting
Dry Ice Blasting is a revolutionary blasting method in which dry ice pellets can replace traditional blasting materials like sand, water or chemicals. As a non-toxic and non-abrasive cleaning method where no waste materials are produced, dry ice blasting is suitable for industries that require a high degree of sanitation, like in food and pharmaceutical industries. When using dry ice blasting, it is possible to clean devices online without any dismantling and subsequent reassembly. Dry ice blasting is a completely dry process because pellets consist of CO2 and vaporise immediately on contact with the surface being cleaned. The process is environmentally friendly and provides a fast and effective alternative to traditional methods of cleaning industrial production equipment.
Public Relation inquiries please contact:
Worldwide
Karolina Gruss-Kufel
Mobile: +48 506 179 323
North & South America
Kevin Gildea
Mobile: +1 513 703 9955
For Corporate inquiries or Partnership opportunities, please contact:
Worldwide
Bjarne Nielsen
Managing Director
Phone: +45 76 56 15 00
North & South America
Dennis Hjort
President, CEO
Phone: +1 513- 942-4144