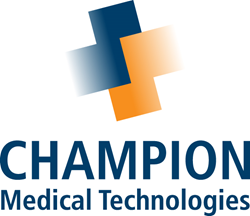 Champion has simplified our process for tracking bone and tissue implants. The Joint Commission inspection team was impressed when we used GraftTracker to show every surgery and implant used in each individual patient. Anonymous Survey Comment
Chicago, IL (PRWEB) February 19, 2015
Medical device management systems are helping hospitals to increase operational efficiency, reduce expenses and improve patient safety, according to a survey of hospitals conducted by Champion Medical Technologies. The company's software-as-service platform, UDITracker®/GraftTracker®, is the leading tissue and medical device management system (MDMS) for hospitals.
"This survey measured overall client satisfaction and explored how UDITracker®/GraftTracker® performs in the clinical setting. We are proud to report that 89% of survey respondents reported high levels of satisfaction with our overall product performance," said Peter Casady, Chief Executive Officer. "Hospitals are under pressure to meet the demands of accountable care, which determines reimbursements based on quality care and cost. This survey contains valuable insights into how progressive providers are using UDITracker®/GraftTracker® to increase operational efficiency and lower costs, while improving patient care and safety.
Champion Medical Technologies Client Insight Survey - Executive Summary
The Champion Medical Technologies client insight survey was conducted in the fourth quarter of 2014. One-third of the company's clients participated in the survey and 40 percent of respondents have been clients for three or more years.
The Champion Medical Technologies client insight survey explored how UDITracker®, GraftTracker®, and its award-winning medical device recall management feature RecallConnect®, performed in four areas:

Fulfilling regulatory compliance
Increasing operational efficiency
Improving patient safety
Reducing the amount expired and lost medical device inventory
Champion Medical Technologies Client Insight Survey - Result Highlights
In order of priority, survey respondents use UDITracker®/GraftTracker® to fulfill all of the tissue tracking regulatory requirements in their hospital, to simplify tissue tracking compliance, to reduce the amount of time they spend on tissue tracking compliance and to reduce the amount of lost and expired tissue inventory in their OR.
> Survey respondents were close to unanimous in reporting that they use UDITracker®/GraftTracker® to fulfill all of the tissue tracking regulatory requirements in their hospital.
> More than 70% reported that using Champion products for tissue tracking saved their staff time.
> Nearly 69% surveyed said that they were confident that RecallConnect® saves time in recall investigation and 62% are confident that it increases patient safety related to recalls.
> Half of all survey respondents, reported that they are confident that UDITracker®/GraftTracker® has helped to reduce the amount of lost and expired inventory in their hospitals.
Champion Medical Technologies Client Insight Survey - Trends
> One-third of survey respondents use UDITracker® to manage implantable medical device inventory other than biologic tissue.
This user group is growing rapidly, as more hospitals expand their MDMS strategy to include implants used in orthopedic and cardiac surgery, like artificial knees and hips, and medical implants used in cardiac electrophysiology, such as pacemakers and defibrillators. When the unique device identification rule (UDI) goes into full effect for implants later this year, it will create a further opportunity for hospitals to improve business processes that can lead to faster, more efficient medical device recall management, reduce the amount of inventory lost to expiration and increase revenue by capturing billing information accurately.
About Tissue Tracking
Biologic tissue is subject to Joint Commission Standards for Tissue Tracking] for tracking and documenting chain of custody, handling and storage, patient use and product recall management. The vast majority of U.S. hospitals use manual systems, including three-ring binders, to fulfill complex and labor-intensive regulatory documentation requirements. UDITracker®/GraftTracker® automates documentation through every step of chain of custody, ensuring fulfillment of Joint Commission standards.
About Champion Medical Technologies
Champion Medical Technologies is a privately held, healthcare technology company and leader in tissue tracking and implantable medical device management systems (MDMS) for hospitals. Its flagship system UDITracker® captures, documents and shares medical implant information between patient care and supply chain information systems, empowering hospitals with the insights they need to increase patient safety and drive down operating costs.
UDITracker® is a comprehensive medical device management system that integrates regulatory compliance, inventory management, quality assurance, warranty credit management, and product recall inventory and patient matching into a single, streamlined system. Using barcode scanners, smartphone apps and RFID storage units, users capture accurate and complete medical device label information in a single swipe, to ensure patient safety, produce inventory cost savings and to generate business-decision making analytics.
UDITracker® features interoperable interfaces to most electronic health record and inventory management systems, ensuring that medical devices can be uniquely identified, located in inventory, tracked during transfer from storage to the OR and traced directly to patients. Uniquely identified medical device information can be searched, sorted and shared within a single hospital or across a group of hospitals.
RecallConnect®, the only real-time recall inventory and patient matching system on the market, received a Chicago Innovation Award in recognition of its unique patient safety feature. It reduces from months to hours the amount of time it takes hospitals to identify patients and current inventory affected by a medical device
product recall.
Founder and Chief Executive Officer Peter Casady established Champion Medical Technologies in 2006. Today it is the market leader in biologic tissue compliance and medical device management.