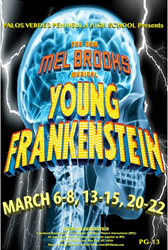 Fun evening to be had by all, both audience and entertainers.
Rolling Hills Estates, CA (PRWEB) March 04, 2015
The New Mel Brooks Musical Young Frankenstein, known for clever dialogue and lyrical music, will be performed by the award-winning Drama Department of Peninsula High School in Rolling Hills Estates, CA, this March 6-22, 2015, on Fridays, Saturdays and Sundays. Performances are in the Performing Arts Center at Peninsula High School (27118 Silver Spur Road, Rolling Hills Estates, CA 90274). Tickets are available one hour before the program or may be purchased on-line at https://sites.google.com/site/penhidrama. Adults are $15, Students with ASB Cards are $12, and Children 12 and younger are $10.
Director Seth Cohen, the drama professor at Peninsula High School, advocates educational theatre. Cohen explains that educational theatre is a means of exposing a broad spectrum of students who are interested in learning every aspect of productions. Opportunities for students include stage engineering, lighting & sound engineering, costume design, period make-up, stage management, and marketing. Choreographed musicals also encourage all performing arts departments to be involved: dance teams, instrumentalists, choirs and actors.
Seth Cohen runs a High School program which provide "Comedy Sportz" competitions, as well as student written/produced plays with original musical scores and choreography. Students are also encouraged to produce PenCafe evenings and fundraisers. Cohen encourages student-mentoring from outside professionals too such as Choreographer Kirsten Chandler, Musical Director Tris Duncan, and Fight Choreographer Ian Roeteger. Multiple competitions, locally and internationally, are included in Mr. Seth Cohen's drama program at Peninsula High School in Rolling Hills, CA.
Peninsula High School's Drama Department has been selected to join the American High School Theatre Festival and will perform at the 2015 Edinburgh Festival Fringe in Edinburgh, Scotland.
Dr. Carol Francis and Associates is one among many supporters including community organizations, businesses, and parents collaboratively excited about the educational opportunities offered for students at the Peninsula High School Drama Department.