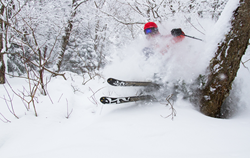 We have literally lost count of the number of Powder Alerts we have sent out.
Montpelier, VT (PRWEB) February 19, 2015
Following the incredible parade of snow storms over the last several weeks, the skiing and riding conditions in Vermont have never been better. Powder stashes abound across all of Vermont's ski areas for eager skiers and riders. With up to five feet of snow hitting Vermont's slopes in February, more snow on the way, and sunny blue bird temperatures this coming weekend, right now is the best time to be skiing and riding in Vermont.
An average of 15 feet of natural snow has fallen at Vermont ski and snowboard resorts this season on top of substantial early season manmade snow from resorts' new high efficiency snow guns. The cold temperatures in January and February allowed Vermont to keep the majority of that snow on the slopes.
"I haven't seen the snow this good in a lot of years," said Bolton Valley's Josh Arneson. "Both on our trails and in the woods, the powder is champagne epic like you'd find out west and we are set up incredibly well for this weekend and beyond."
"We have literally lost count of the number of Powder Alerts we have sent out," said Ski Vermont Director of Public Relations Sarah Wojcik. "February and March are often the best months of the ski and ride season in Vermont and this year is no different with the ideal dry powder that we've received. We're just glad that Vermont is so close to all the powder hounds out there who can get here easily to enjoy it with us."
At 100% open since mid-January, Vermont is one of the best places to be skiing or riding in the continent right now. At 241 inches, Jay Peak has received more snow than popular powder destination Alta in Utah this season, making the East coast the revered destination for powder hounds. Stowe Mountain Resort reports 70 inches deep snowpack at the Mountain Mansfield snow stake and Killington is aiming to stay open through the month of May, possibly into June. On top of all the snow already received, March tends to be the snowiest month in the state, pairing nicely with sunny days and warmer temperatures.
For those looking to relish in Vermont's snowpack and powder, there are plenty of late February events and deals to encourage skier and riders to hit the mountain. March will also be chock full of incentives and packages for late season visitors.
At Killington Resort, NOR'BEASTER Spring Passes are on sale now and offer unlimited skiing and riding from March 14 until the end of the season, which could be in May, or as many Killington diehards hope, June.
Mount Snow offers $17 Lift Tickets for Saint Patrick's Day and a $69 Ski & Stay Getaway that is valid midweek, midseason and weekends beginning March 16, 2015.
Bromley Mountain suggests the Spring Loaded Card which includes 4 days of skiing or riding for $119, and the Kidsrule 3-pack, a 3-pack of lesson for kids 5-14 for just $299. Both are valid February 23 through December 23, 2015.
For more information on conditions, events and deals, visit skivermont.com. For photos of face shots and powder stashes, visit the Ski Vermont Facebook page.
Ski Vermont (Vermont Ski Areas Association) is a proud ambassador of the thriving winter tourism industry in Vermont, where the legislature has designated skiing and snowboarding as the official state sports. Vermont is not only the #1 ski state in the east and third in the US, but also reigns supreme in snowmaking quality and coverage, variety of terrain and historical impact on the sports of skiing and snowboarding - making it one of the most significant ski and ride destinations in the world. Ski Vermont's mission is to help create a legislative, economic and social environment in which the state's ski areas can grow and prosper. It serves its 19 Alpine and 30 Nordic member resorts in three major areas: Governmental Affairs, Marketing and Public Affairs.