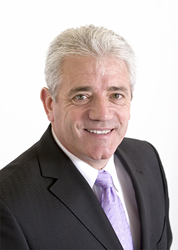 Leadership and teamwork apply to everything where people are involved
Oslo, Norway (PRWEB) February 19, 2015
itSMF Norway today announced Kevin Keegan, arguably one of the world's greatest football players ever, will kick off the 2015 itSMF Norway Annual Conference with his keynote address, "Leadership Lessons from the World of Football Management."
Bruce Dickinson, Iron Maiden lead vocalist and entrepreneur, was originally slated to be the conference's keynote speaker, but had to cancel due to conflicting obligations to Iron Maiden. That's when itSMF Norway found Kevin Keegan to headline the conference. Keegan, who once graced many football pitches around the world, has enjoyed quite the career going from player to manager. He will draw from this experience for his keynote presentation to attendees on March 4, 2015.
The largest IT service management conference in Europe, the itSMF Norway Annual Conference expects over 700 attendees from around the world to come together March 3-5, 2015 in Oslo, Norway to discuss hot topics in IT, learn from thought leaders, and meet with fellow ITSM professionals. The conference is introducing something new this year in the Service Bazaar at the pre-conference - a collaborative and immersive learning environment where attendees can take a deeper dive into ITSM challenges.
"Of course we were disappointed that Bruce had to cancel, but we know what a huge draw Kevin Keegan is and our attendees can't wait to hear what he has to say about leadership and teamwork!" said Sofi Fahlberg, chairwoman of itSMF Mid-Norway. "He's a huge icon when it comes to international football, and he'll be sure to motivate the crowd at itSMF Norway 2015."
About itSMF Norway
Founded in 2002, itSMF Norway is one of the most successful chapters in the international forum. The Norway chapter is one of the earliest members of the organization and, in relation to the population of Norway, has a per capita membership that exceeds the majority of itSMF chapters globally.