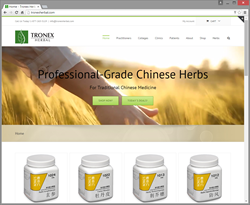 Our new website, at TronexHerbal.com, reflects our position as herbal industry leaders and reinforces our dedication to providing the best user experience and first class quality products for acupuncturists.
Mount Olive, NJ (PRWEB) February 23, 2015
Tronex Herbal Solutions, Inc., the exclusive supplier of Nong's granulated herbs for Traditional Chinese Medicine in the United States, continues branding momentum in 2015 with a completely new, mobile-friendly e-commerce website at TronexHerbal.com.
Launched on February 5, 2015 the Tronex Herbal new website features sleek, simple navigation and a robust shopping cart with over 600 individual herbs and herbal formulas. The new site makes it easy to quickly find an herbal product by Pinyin or pharmaceutical name. Likewise, users can quickly narrow the search using herbal categories in accordance with Traditional Chinese Medicine.
"Our new website reflects our position as herbal industry leaders and reinforces our dedication to providing the best user experience and first class quality products," says Donald Chu, President and CEO of Tronex Herbal Solutions, Inc.
"By shifting focus to the activities Practitioners can do with our products, we're showing how Tronex Herbal fits into their acupuncture and herbal practices with herbs, herbal consultation, and herbal fulfillment with value-added solutions."
Practitioners must register in order to shop on the site, providing a copy of license, ACAOM, or NCCAOM certification. Options allow Practitioners to sign up for the Tronex Herbal Times e-newsletter, as well as to be listed in the online Practitioner Directory. Opting into the Practitioner Directory adds a free advertising listing where a Practitioner can highlight areas of specialty. Any consumers visiting the site are encouraged to use the Practitioner Directory.
TronexHerbal.com highlights innovative offerings, including comprehensive and affordable 'Starter Kits' for new herbalists, as well as the Tronex Nong's Herbal Dispensary, a stand-alone, modular, clinical dispensary system for granulated herbs.
Additionally, 'responsive' website design ensures that users can access TronexHerbal.com anywhere, even when using smartphones and tablets. This important feature means that users can read articles, search for acupuncturists, and research or purchase products even while on the road.
TRONEX HERBAL SOLUTIONS, INC.
Headquartered in the International Trade Center, Mount Olive, NJ, Tronex Herbal Solutions, Inc. has provided the most clinically advanced herbal supplements since 2008. Sourcing from farm to state-of-the-art manufacturing to United States practitioners and patients, every aspect of herbal production is tested and documented to meet cGMP Certification and all U.S. FDA industry requirements. Tronex Herbal Solutions provides professional grade herbal products, both singular and formulated, to help alleviate patients' symptoms with consistency and efficacy. The scientific manufacturing process of natural herbs for Traditional Chinese Medicine is verified by testing of every batch for controlled potency, as well as purity from pesticides, microorganisms, and heavy metals. Acupuncturists, Herbalists, Naturopaths, and consumers trust Tronex Herbal Solutions to deliver consistent potency of herbs each and every time. To learn more, call 877-263-5119 or visit http://www.TronexHerbal.com.