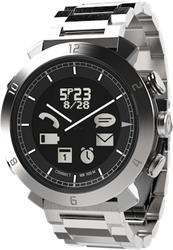 San Diego, CA (PRWEB) February 18, 2015
COGITO CLASSIC—the beautifully designed smartwatch with the sophistication of a precision-crafted timepiece, is joining the ranks of high quality tech products featured at Brookstone stores across the nation. A particularly good fit with Brookstone's fun, interactive shopping experience, COGITO CLASSIC is sure to stand up to the quality and craftsmanship associated with the store.
Available at more than 50 Brookstone locations nationwide and online:
http://www.brookstone.com/cogito-classic-smartwatch
COGITO CLASSIC appeals to both the techie and grown-up in each of us. Combining classic analog movement with all the essentials of a smartphone, it's the ultimate accessory for the tech lover who values function, but doesn't want to trade fashion to get it. A pioneer of the smartwatch movement, COGITO CLASSIC is revolutionary in the way it operates. Rather than becoming one more gadget that distracts from everyday moments, this wonder watch helps streamline what is important and what can wait.
Simply link COGITO CLASSIC to any smartphone or tablet using the app, and use its customized settings to choose priorities and which notifications will appear. COGITO CLASSIC frees you from continually checking your phone, and the beautiful, classic watch face displays who is calling and gives the option whether to answer or mute the call.
"We wanted to eliminate the clutter and all the digital distractions in our daily lives," said Peter Hauser, Chief Technology Officer of CONNECTEDEVICE, makers of COGITO CLASSIC. "What better way to do that than by simply looking down at your wrist?"
Making life even easier is the fact that the COGITO CLASSIC is one of the only smartwatches on the market that never needs to be charged. Using a standard watch battery that is easily replaced when needed, hunting for an outlet or charging cable becomes completely unnecessary. In a world where everyone already has to remember to charge their computers, tablets and smartphones every night —this feature eliminates the need to charge their watch, too.
The COGITO CLASSIC is also water-resistant up to 10 ATM, meaning those with active lifestyles can still monitor essential communications in situations where they might not be able to bring a phone. No more worrying about carrying a phone in the rain or on the beach. COGITO keeps adventurers, travelers and relaxers safely connected.
In addition, it's programmable to give only the notifications desired. Receive notifications about text messages from only certain people such as a child or boss. COGITO can also be used to take a selfie by setting up your phone and using the watch to snap the shot.
The watch is not only revolutionizing the way we live our lives, but it's fashion forward as well. Featuring design by award winning French Designer Xavier Houy, this precision-crafted timepiece adds a level of sophistication to the smartwatch market. Featuring classic analog movement combined with intuitive digital notifications, this is the only smartwatch with a design that looks forward to the future while paying tribute to the past.
The COGITO CLASSIC can be paired with Apple and Android devices, making it one of the only smartwatches to cross the boundaries of different operating systems. Allowing the option to change from one phone brand to another, the same smart watch can remain in the process. Retailing for $179, the COGITO CLASSIC is an affordable option, making it the ultimate option for someone who values function and fashion.
Currently available at select Brookstone retail shops and online at http://cogitowatch.com/classic.html, the COGITO CLASSIC is soon to take the smartwatch market by storm!
About CONNECTEDEVICE:
CONNECTEDEVICE is a pioneer in the design, development and manufacture of digital lifestyle products and solutions — technology that is both intelligent and intuitive, functional and fashion-forward. Creating one of the world's first smartwatches with the COOKOO and COGITO brands, their watches are now available in retail locations throughout the world.
For samples or additional information, please visit cogitowatch.com/classic.html or contact chelsea(at)chicblvd(dot)com