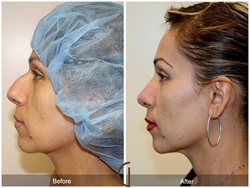 Newport Beach, California (PRWEB) February 20, 2015
Nose reshaping in people of ethnic descent requires a unique set of skills and understanding of the patient. Because of his background, Dr. Sadati has a specialized interest in rhinoplasty in those of a non-Caucasian ancestry. The aesthetic standards, techniques and measurements commonly used in Caucasian patients, are not appropriate for an ethnic nose.
Dr. Sadati's extensive experience in ethnic rhinoplasty led patient's to seek his advice and skillset when opting for this procedure. Ethnic rhinoplasty is a specialized procedure that requires a surgeon who particularly understands the differences in technique required to produce optimal results. This procedure was in high demand in 2014, and Dr. Sadati's expects the trend will continue as cosmetic surgery becomes more accessible and socially acceptable.
The use of diced cartilage grafting in ethnic rhinoplasty is also on the rise. Diced cartilage grafts are a valuable addition to rhinoplasty surgery, as they are highly flexible and useful throughout the nose. Their use simplifies one of the greatest challenges in all of rhinoplasty--dorsal augmentation. Complications have been relatively minor and their correction relatively simple. This advance in technology has improved the results and outcomes of ethnic rhinoplasty, and is a technique that Dr. Sadati utilizes in his practice.
Dr. Kevin Sadati is one of the top California facial plastic and ENT surgeons specializing in minimally invasive facial and nasal surgery. He is Board certified by the American Osteopathic Board of Otolarynology Head and Neck Surgery (AOBOO-HNS), Diplomate of the American Board of Cosmetic Surgery (ABCS) and a member of the prestigious American Academy of Facial Plastic & Reconstructive Surgery (AAFRS).
Dr. Kevin Sadati has over a decade of experience in the field of nasal, sinus and facial plastic and reconstructive surgery, and has become one of the most sought after Newport Beach and Orange County facelift, rhinoplasty, neck and face liposuction and sinus surgery specialists.
For more information about Dr. Sadati and his nationally recognized practice, visit http://www.drkevinsadati.com.