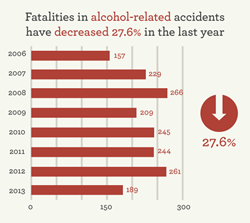 Oklahoma City, Oklahoma (PRWEB) February 23, 2015
McIntyre Law, P.C. is releasing its fifth annual McIntyre Law DUI Report with new statistics from 2013. The study's data are pulled from the National Highway Traffic Safety Administration (NHTSA), Oklahoma Highway Safety Office (OHSO) and the Fatality Analysis Reporting System (FARS).
There's a glimmer of hope in the ongoing fight against DUI in Oklahoma. In 2013, fatalities from DUI accidents were down 27% from 2012. While specific numbers of fatalities continue to fluctuate from year to year, this substantial decrease—of nearly one-third—is promising news. 2013 shows a strong improvement in the number of DUI-related fatalities since 2006, though there were still nearly 200, which means that DUI continues to be a problem on Oklahoma roads.
In addition to statewide trends, the McIntyre Law DUI Report also looks at alcohol-related crashes by county. From 2006-2013, Tulsa County had the greatest number of DUI fatalities, followed closely by Cleveland County. The highest number of DUI fatalities per capita was in Roger Mills County.
McIntyre Law, P.C. continues to publish this annual report to raise awareness of DUI and its consequences. McIntyre Law's mission is to make Oklahoma's roads safer and to protect the rights of car accident victims. Noble McIntyre, recently elected president of the OAJ, urges interested Oklahomans to join the conversation by contacting the Oklahoma City Mothers Against Drunk Driving (MADD) chapter, or to reach out to McIntyre Law for more information on this alcohol related crash research.
To view additional Oklahoma DUI statistics and information, please see our complete set of previous year's reports or for more information, please visit McIntyre Law, P.C.'s website.