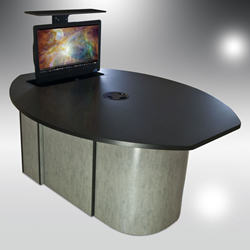 Lots of meeting technology concentrated into a compact footprint.
Baltimore, MD (PRWEB) February 19, 2015
Responding to design requests for customized collaborative furniture, SMARTdesks announces today the release of its latest design— The Boost Video Conference Table. This is a free-standing collaboration table designed for open plan architectural spaces. The Boost has a compact footprint, so it can be nestled into a smaller private office, or define a collaborative area in the context of larger flexible space where multiple sessions occur simultaneously.
Educators, corporate think tanks, interior designers and IT Integrators all gave their input on the design for the Boost Collaborative Conference Table. The compact footprint—48"w x 60"d x 28"h—and self-contained configuration supports flexible placement in a range of settings. Interior designers love the finish options to accent or define the tone for the space. A full range of standard and premium laminates are available for the top and base cabinet. The top shown is the Nanotech Material Fenix NTM®—an extraordinary material that offers low light reflectivity—extremely matt surface—that is also anti-microbial, anti-fingerprint, soft to the touch and also offers thermal healing of micro scratches.
The flipIT Monitor Lift hides the monitor, keeping it protected when not in use. A push down on the lid initiates a controlled lift without motors or electricity. The VESA standard mount is used with eleven possible mounting heights, and the screen angle may be adjusted intuitively. Offered in two weight ranges: 5-15 and 15-24 lbs. Monitor case width max is 22.75"—a good scale, given the size of the well defined collaborative space.
Rack mount technology space is organized below, found behind two locking cabinet doors with comfort grip tab pulls. The storage space features two adjustable or removable shelves and 14 rack mount spaces on two sides.
The top can have a specified cutout for a technology or power grommet to be installed. The IT Integrator may specify this for the required technology, or selections offered by SMARTdesks are available to provide popular features. If top-side power access is desired, the Cove 4-power flush-mounted port is an elegant choice.
The FSR HuddleVu Video Switching System is offered as a technology option from SMARTdesks. The HV-1000 single table box system employs a single FSR HV-T6 table box that allows up to 4 users to plug in and power their laptops or other input devices and simply push a button to display their desktop information on the main display. Any user can switch to their own laptops, tablets, and smartphones at any time simply by pushing their own button on the T6 housing. System Includes: (1) HV-T6-BLK, 4-HDMI Input Table Box; (1) HV-CTL, Huddle-VU Control Unit; 1-DV-HSW-41, HDMI Switcher; 4-HDMI 6' Cables (Premounted in HV-T6-BLK); 1-HDMI 10' Cable; (1) Null Modem 6' Serial Cable. VGA and audio adaptors are available.
SMARTdesks designs and manufactures innovative, custom computer conference tables and computer classroom furniture. Each product is made to order, nuanced for the technology, purpose and interior design choices for the space. SMARTdesks is the patent holder for flipIT® products and is the sole source for flipIT and factory integrated flipIT furniture products. Serving universities, corporations, government and military clients world-wide, SMARTdesks furniture is made in the USA using Certified GREEN manufacturing methods. For more information, contact smartdesks through the web site— http://www.smartdesks.com