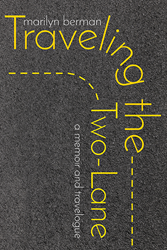 "This is a brilliant journal, a must read for those wishing to step out from yesterday's darkness into the light of today's reality." - Jedwin Smith, author of Our Brother's Keeper, Pulitzer Prize Nominee
Atlanta, Georgia (PRWEB) February 20, 2015
BookLogix is pleased to announce the upcoming release of Marilyn Berman's memoir and travelogue, Traveling the Two-Lane. A story of self-discovery and reflection, Marilyn recounts her yearlong solo journey across North America, detailing the spontaneous pit stops in unfamiliar towns and reflecting on her youth.
At the age of sixty-three, Marilyn left for her journey with no set path or itinerary in hand. Just a destination: Alaska. As she drove, explored, and hiked, she pondered her past. Marilyn grew up gay at a time when homosexuality was not only illegal, but also considered a mental illness. For decades, she led a dual existence, trying to be "normal" while fantasizing about women.
Traveling the Two Lane offers a perspective that is unlike most; while surrounding herself with the natural beauty of the present, Marilyn looks back at the past—filled with buried secrets and little hope for the future. As her two stories merge into one, Marilyn begins to find her place in the ever-changing world we live in.
Traveling the Two-Lane will be available on February 26th, 2015 at Amazon.com and shop.booklogix.com. Pre-Orders are available now at travelingthetwolane.com/book.
Note to Media: Marilyn is available for media interviews. Please contact Caitlin Wells at 470-239-8547 or Caitlin(at)booklogix.com.
# # #
About BookLogix
BookLogix is a professional publishing house that supports authors and independent publishers. Located in Alpharetta, GA, BookLogix publishes a variety of fiction and nonfiction books. Learn more at BookLogix.com.
BookLogix
1264 Old Alpharetta Road
Alpharetta, GA 30005
BookLogix.com
Contact: Caitlin Wells, Book Publicist
Phone: 470-239-8547
E-mail: Caitlin(at)booklogix.com