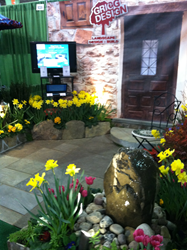 When it comes to landscape design, we blend the creative with the practical...
Manassas Park, VA (PRWEB) February 23, 2015
Make plans to stop by the Capital Remodel + Garden Show at the Dulles Expo Center this weekend, February 27–March 1. Northern Virginia's premier landscape builder Grigg Design will be on hand to showcase hardscape and landscape capabilities in a beautifully designed 10- by 20-foot booth featuring a fire pit; custom wall designs; flowering plants; a flagstone patio; colonial slab steps; a veneered drystack stone wall; and a handmade stone water fountain — all, or some of which could be yours.
Capital Remodel + Garden Show attendees will find innovative products, new ideas, and practical advice from hardscape and landscaping experts (Find Grigg Design on the show floor in booth #842.); home improvement and remodeling professionals; entertainment and electronics options galore; and so much more!
Meet Patrick Corken at the Capital Remodel + Garden Show.
The newest member of the Grigg Design Landscape Design/Build team, Patrick Corken earned a degree in Horticulture from the State University of New York at Cobleskill before going on to study Landscape Architecture at Purdue University. Corken has extensive experience developing, designing, and building residential landscapes, and throughout his career with companies in New York and Chicago, has won numerous industry awards.
"When it comes to landscape design, we blend the creative with the practical. That's what we do best," said Steve Grigg, Owner of Grigg Design, Inc. "That's what Patrick does best. And that's what we hope to continue to show the good people of northern Virginia this weekend, and for years to come."
Come on out to the Dulles Expo Center, February 27–March 1, where Patrick Corken and the Grigg Design team will be standing by — in booth #842 — to say hello, to answer questions, and to turn landscape dreams into reality. Register to attend the Capital Remodel + Garden Show; visit [LINK]
About Grigg Design, Inc.
Established in 1986, Grigg Design has been providing award winning designs and installations for over 30 years to clients in Fairfax, Arlington, Alexandria, Prince William County and the surrounding areas. Grigg Design is a full service landscape design build firm; from conception to completion, their primary focus is providing clients with a finished, fully functional landscape, from design all the way through implementation. Hire the expert team at Grigg Design to install a single feature such as a garden installation, patio, walkway, retaining wall, etc.; or to manage a project with many facets. Grigg 'designs on the human scale', all while employing the best horticultural engineering practices. For more information, visit http://www.gdiva.com.