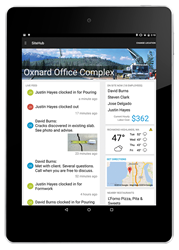 SiteHub is meant to answer the question, 'What's going on at my jobsite?
Los Angeles, CA (PRWEB) February 24, 2015
ExakTime, provider of construction's and field services' #1 mobile workforce management systems, announces its newest offering: SiteHub, now available for download with the latest version of ExakTime Mobile at Google Play and the App Store.
By capturing all relevant employee and job site information collected by ExakTime Mobile on one screen, SiteHub gives supervisors an at-a-glance overview of what's happening at any of their job sites.
Compatible with both iOS and Android platforms, this new ExakTime Mobile feature offers real-time, detailed information about any single job site—including a running tally of labor costs—as well as helpful maps and updates pertaining to the area.
"SiteHub is meant to answer the question, 'What's going on at my jobsite?'" said ExakTime CEO Tony Pappas. "You can only be in one place at one time, but managers often need to know what's going on everywhere. Now with SiteHub, they can."
Using GPS, SiteHub automatically displays the job site closest to the user's location, with the option of choosing another site to view.
SiteHub's live feed shows clock-ins and clock-outs as they occur, as well as Field Notes, site photos, form data, and other updates pertaining to the site as they are created. Contractors can also see the estimated hourly labor cost for the site, updated as employees clock in and out.
SiteHub displays a full list of employees who are on site, a weather report with National Weather Service alerts for that area, and a map pinpointing the site location and offering directions there or to another address.
"SiteHub is designed for supervisors, or any authorized Exaktime Mobile users," Pappas said. "Giving the right people a bird's-eye view of the activity and conditions at the site is critical to effective workforce management." He added, "It's amazing to see the buzz of activity at a site and to be able to address concerns as they occur, or just relax knowing that all is well."
*****
Founded in 1999, ExakTime is construction's and field services' #1 selling mobile workforce management system in North America. As the leader in mobile, wireless and rugged time tracking solutions, the ExakTime system is used every work day by more than 700,000 workers from dozens of industries in more than 120 countries.
For more information, visit: http://www.exaktime.com.