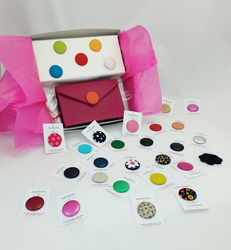 This bag allows women to look stylish in a jiffy and adapt to any social environment.
(PRWEB) February 19, 2015
Luxury Handbag Designer, Pink Tulips, LLC, just announced a new bag called the Poppy, a clutch that allows for magnetic snap-on embellishments appropriately dubbed "Poppets."
This interchangeable clutch is available in leather or linen and comes with a detachable 48" gold tone shoulder chain plus six colorful Poppets. Fashion forward women can customize their clutch to be elegant, whimsical or romantic by attaching pops of color or any of the other eye-catching embellishments to the front flap with a magnetic snap. Pink Tulips is currently offering an introductory rate for boutique owners and retailers that are interested in carrying these starter sets.
"Pink Tulips customers are on-the-go and don't always have time to change handbags for every occasion," says designer and founder Annette Cook. "By offering a bag with myriad embellishment options, it allows women to still look stylish in a jiffy and adapt to any social environment."
From classic silhouettes to chic color combinations, Pink Tulips handbags add a touch of whimsical detail to punctuate virtually any outfit. Each handbag has a story to help customers visualize themselves going about their day accessorized with a Pink Tulips handbag. Every tote, clutch and satchel is inspired and named after a particular flower.
About Pink Tulips, LLC:
Founded by Annette Cook, Pink Tulips, LLC is a luxury handbag line for the modern woman who "lives vicariously" and recognizes exceptional quality, style and craftsmanship. Cook launched the business in 2010, fueled with the entrepreneurial spirit of her great-grandfather, Joseph Sachs, a prolific inventor who patented the pull down fire alarm and the fuse. Using the skills she had mastered in floral design, sewing and bootstrapping in addition to the help of East Coast boutiques, Pink Tulips caught the attention of kitschy fashion-forward retailer Urban Outfitters in 2012. For more information about Pink Tulips and to browse the latest collection, visit http://www.pinktulips.biz.