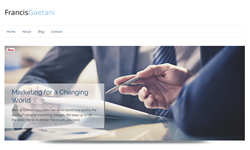 I wanted to create a targeted site that would provide marketers with expert personal advice.
Sutton, MA (PRWEB) February 25, 2015
Francis Gaetani, President and CEO of Gaetani Associates, is pleased to announce the launch of his new website. The website is a user-friendly, information-based platform which can be found at francisgaetani.com. Coinciding with Gaetani Associates 20th anniversary, the release of the website is just the next step in a two decade journey of innovation.
This website has been in the works for some time and signifies big opportunities for Francis Gaetani, known to colleagues and friends as Fran Gaetani. "I wanted to create a targeted site that would provide marketers with expert personal advice," says Mr. Gaetani, a graduate of St. Michael's College at Winooski, VT. "People appreciate the personal touch, and francisgaetani.com provides just that."
In 1987, Fran Gaetani began his job at Sani-Fresh International, where he was promoted to the New England Sales Manager, which covered the sales for all six New England states. He then became Vice President of Sales for the East Coast Region at Minnetonka. For the past two decades, Gaetani Associates has been providing high level service to New England companies. Years of experience in the areas of sales and marketing have led Gaetani to believe that meaningful services and content deliver better results than the worn-out tactics like cold-calling, spam, and telemarketing.
Mr. Francis Gaetani is an expert marketer whose marketing efforts focus on boosting the presence and sales of his clients on a long-term basis. Mr. Gaetani maintains that this can only be accomplished by new-age thinking and understanding the challenges and opportunities in the ever expanding world of sales and marketing. He lives with his family in Sutton, MA, where he is an active member of the community and acts as head coach for the town's boys' basketball league.