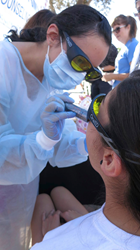 (PRWEB) February 19, 2015
As reported by MyFoxChicago on February 13, 2015, when Anna Woodard took her 11-year-old daughter Journee to the dentist, she did not know having her daughter see Registered Dental Hygienist Rachel Stroble would save Journee's life. The fact that the dental hygienist did a head and neck exam on this child and identified an abnormality is something that happens in the dental profession everyday. The yellow in Journee's eyes was a flashing red light that others did not notice, but Rachel cued in right away. Identifying that symptom set emergency care in to play and surgery for a tumor on Journee's liver, all because of a Registered Dental Hygienist. http://www.myfoxchicago.com/story/28104455/dentist
According to Dental Hygienists' Alliance member Noel Kelsch, RDH, RDHAP, BS, "Registered Dental Hygienists are required to complete the same amount of education as a nurse, amounting to four years of college level education and clinical training. They are didactically and clinically educated specifically to provide full preventive and prescriptive oral health care, including scaling and polishing and identification of abnormalities. If they are able to meet requirements for the clinical and written board exams, they can receive a license to practice. Their education, however, does not end there. They must also obtain continuing education hours to maintain their license and stay up to date on current science." The Dental Hygienist is doing so much more than the important task of cleaning deposits and stain from teeth --They provide oral cancer screenings, nutritional evaluations, health history evaluations, disease prevention, education, nonsurgical periodontal treatment for disease, and numerous health risk assessments.
The American Dental Association has proposed that this level of education and clinical training is not necessary to see a child like Journee, who has limited oral disease. They are proposing that an Oral Preventive Assistant (OPA), which is a certified dental assistant, would be enough. The Oral Preventive Assistant only receives an additional three months of online or in-person instruction, plus on the job clinical experience in scaling and polishing teeth. They lack a science background and a college-level education. The reasoning stated by the ADA is a shortage of dental hygienists available; however, ask any of the many unemployed or under employed Registered Dental Hygienists in the United States and one will learn this is not the case. An RDH eVillage survey indicates that 77% of dental hygienists believe "too many graduates are looking for work" and less than 1% said there was a "shortage" of dental hygienists where they practice. http://www.dentistryiq.com/articles/2014/09/rdh-evillage-salary-survey-part-1-hygienists-still-think-jobs-are-scarce.html The OPA is not in the patient's best interest. They will not lower the cost of care but will lower the quality of care patients receive, according to the Dental Hygienists' Alliance.
The Dental Hygienists' Alliance and the Ventura County Dental Hygienists' Association would like to ask everyone to make law makers aware of the need for a Registered Dental Hygienist. Four years of college level education with a strong focus on science and training saved Journee's life and could save countless others. Ask for a Registered Dental Hygienist to provide preventive oral health care and make legislators aware of this blatant attempt to put public health in jeopardy.