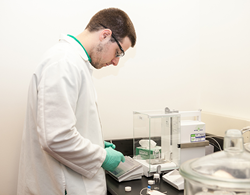 Understanding impurities is critical to keep potential patients safe and your drug candidate on track through the approval process.
Morton Grove, IL (PRWEB) February 24, 2015
Regis Technologies will lead a panel discussion on potential genotoxic impurities and degradation products in drug substances on March 9 at Pittcon.
The discussion is part of Pittcon Conference and Expo's Technical Program, held at the New Orleans Morial Convention Center March 8-12, 2015. Regis directors Andy Miles and Dr. Igor Likhotvorik will chair the panel titled "Impurities/Degradation Products in Drug Substances: Innovative Approaches to Control the Process" on Wednesday, March 9, 1:30-4:05pm. The panel will also include speakers from Pfizer, Genentech, Merck, Eli Lilly, and ES Industries.
Regis initiated this discussion due to the growing attention to impurities, especially potentially genotoxic impurities (PGIs), in the drug development and approval process.
Since impurities found in pharmaceutical drug substances can potentially exhibit pharmacological activity, there are reporting, identification, and qualification thresholds dictated by ICH guidelines. Impurity levels need to be understood and controlled for the benefit of safely administering pharmaceutical products to humans.
The panel will discuss several topics, and the outlined schedule is available on the Pittcon 2015 website. Topics will center around analytical method development, isolation of impurities, and structure elucidation. The seven speakers will present case studies and methods involving HPLC, MS, and 2D NMR. Discussions will span the drug discovery through approval process.
The presentation will provide a general overview of the issues surrounding impurities in drug substances and the need to develop sound analytical methods to track such potential impurities.
Andy Miles, Regis's Director of Pharmaceutical Services and panel co-chairman, advises, "Understanding the synthesis- and degradation-related impurities in your drug substance is critical. Early characterization can keep potential patients safe and your drug candidate on track through the approval process."
Miles has worked in the pharmaceutical industry for over 18 years. He earned his bachelor's degree in Biological Sciences and Chemistry from Eastern Illinois University. He has worked for Regis since 2005 in a business development role selling Regis' products and services.
Co-chairing with Miles is Igor Likhotvorik, Ph.D., Regis's Director of Process Research since 2009. He received both his undergraduate degree in Chemical Engineering and his Ph.D. in Organic Chemistry from the Technical University of Ukraine; his postdoctoral studies in organic synthesis and organic chemistry of reactive intermediates were completed at Princeton University and The Ohio State University. Utilizing his over 20 years experience in the pharmaceutical industry, he is responsible for leading the Regis Research Team in the pursuit of scalable organic syntheses to support drug development programs.
Registration is required for the Pittcon conference, but all attendees may join the panel discussion. Pittcon is the world's largest annual conference and exposition for laboratory science. In addition to the technical program, Regis is also exhibiting at booth 4626.
For more information on Regis' impurity services and custom manufacturing abilities, please visit their website or connect with a representative at Pittcon.