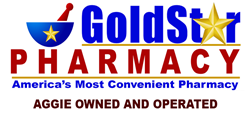 We are excited about our relationship with EHO, giving us the opportunity to empower hospices across the country to improve in 3 key areas (1) Quality of Care (2) Deliver Legendary Customer Service to their patients; and (3) Guaranteeing the Lowest Cost
College Station, TX (PRWEB) February 24, 2015
GoldStar Pharmacy today announced it will continue to build on its home delivery pharmacy business by entering into a strategic PBM agreement with EHO to launch GoldStar Hospice Solutions. This contractual agreement combines the customer focus and clinical excellence of GoldStar Pharmacy's team with EHO's industry-leading technology-driven PBM capabilities, and the combined purchasing scale of the two companies to deliver significant cost savings to our hospice partners.
EHO will provide online adjudication services of prescription drug claims for GoldStar Hospice Solutions' fast growing hospice patient base throughout the country. This relationship opens a new avenue for GoldStar's hospice partners, with the ability to now utilize EHO's industry-leading expansive platform of online tools and analytics. These web-based resources will assist the hospices' management in better controlling quality and costs relative to their medication spend.
In addition to the EHO agreement that gives GoldStar superior and expanded functionality, GoldStar also announces the launch of two additional solutions; its new PBM product called PBM LocalTM and E-Prescribing for our Hospice partners. These solutions give hospices a significant competitive advantage as hospices face the reality of reimbursement and regulatory headwinds. Hospices will have the choice to use our mail order option with next day home delivery via FedEx or choose to fill at one of EHO's 63,000 contracted national network pharmacies with both solutions guaranteed to help hospices lower their medication costs.
A.J. Oben, President & CEO of GoldStar Hospice Solutions said, "We are excited about our relationship with EHO, giving us the opportunity to empower hospices across the country to improve in 3 key areas (1) Quality of Care (2) Deliver Legendary Customer Service to their patients; and (3) Guaranteeing the Lowest Medication Cost to the hospice"
Tom Lanham, Founding Partner for EHO also commented, "The EHO team is excited to work with GoldStar Hospice Solutions and their hospice clients. This arrangement will enable each of our respective companies to concentrate on the strengths of our respective businesses, with both of our companies benefiting from these synergies."
About GoldStar Hospice Solutions
GoldStar Hospice Solutions is a privately owned, fully integrated mail order & compounding pharmacy with PBM services headquartered in College Station, TX with over 63,000 network pharmacies. Our industry-leading innovative technology solutions are designed to offer our Hospice Partners superior Operational Excellence, Improved Outcomes and Financial Leadership. Our dedicated focus in the Hospice industry makes us a premier partner for hospices organizations throughout the United States of America
About EHO
Located in the Belton, Texas, EHO is a prescription claims processor that for over 22 years has focused on administering prescription claims for health maintenance organizations, third party administrators, preferred provider organizations, pharmacy benefits management companies, employers, hospice programs, workers compensation programs, patient assistance programs (state, county, municipal, MHMR, etc.) and fraternal groups.