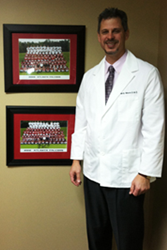 Buford, GA (PRWEB) February 18, 2015
Dr. Randolph S. Moore is a general dentist in Buford, GA, and he takes seriously the evidence that periodontal disease is linked to an increased risk of heart disease. Dr. Moore urges patients with periodontal disease to take advantage of American Heart Month by getting treatment as soon as possible. After diagnosing periodontal disease, Dr. Moore may suggest laser gum surgery with the Sol Laser by DenMat. The minimally invasive procedure removes diseased tissue and initiates healing without the need for cutting or stitches.
Periodontal disease begins with a painless condition known as gingivitis. This is characterized by puffy, red gums that bleed easily. It is caused by plaque that forms along the gums and irritates them. Even at this early stage, periodontal disease may already have a negative impact on heart heath. Without proper attention, gingivitis turns into periodontitis. This stage of the disease occurs when plaque works its way between the gums and the teeth, causing gaps, or pockets, to form. Eventually bone loss develops and the teeth loosen until they must be extracted.
The bacteria that causes periodontal disease can travel to other important organs, such as the heart, through the bloodstream. For patients with gum disease, it is best to get care as early as possible to prevent the advancement of periodontitis and prevent the risk of heart damage. With laser gum surgery Dr. Moore is able to kill bacteria and remove diseased tissue, improving overall health.
Residents in Buford, GA looking for a dentist who can treat periodontal disease to increase heart health should visit Dr. Moore's website or call his office to schedule a periodontal evaluation.
About the Doctor
Dr. Randolph S. Moore is a general dentist offering personalized dental care for patients in the Buford, GA area for over 20 years. Dr. Moore received his degree from the University of Alabama in Birmingham, and completed his residency at the Veterans Hospital in Birmingham. Dr. Moore is active in the dentistry field and is a member of the Georgia Dental Association, the American Dental Association, American General Dentistry, American Academy of Cosmetic Dentistry and ICOI (International Congress of Oral Implantologists). To learn more about Dr. Moore and his dental services visit their website at http://www.smilemooredentistry.com/, or call (770) 545-6141.