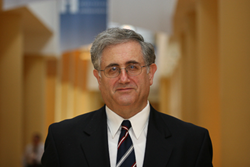 Dr. Litvak brings proven process and expertise for hospital leaders to learn from.
NEWTON, MA (PRWEB) February 23, 2015
The Institute for Healthcare Optimization (IHO) is pleased to announce a half-day workshop, Applying Queuing Theory to Health Care: A Necessary Step Toward Improving Quality of Care and Margin that will be taught by Dr. Eugene Litvak at the 2015 Patient Flow Summit on Monday, May 4.
A changing healthcare landscape is driving hospital administrators to consider ways to improve hospital operations to provide quality care more efficiently. Dr. Litvak, who has been teaching queuing theory to clinicians for many years, will explain how the effective use of queuing theory can positively impact both the quality of care and the fiscal performance of healthcare systems.
During the 4-hour workshop, Dr. Litvak will introduce several different queuing theory models and walk attendees through exercises that will help them understand how to apply those theories in their own healthcare systems. Dr. Litvak will explain how different queuing models can be used to address various healthcare problems such as nurse staffing shortages, placement of patients in inappropriate units due to bed unavailability and extended delays for patients seeking access to care.
Nurses attending the workshop can earn up to 4 CNE contact hours for attending the session.
"Dr. Litvak is a pioneer in hospital patient flow," said Derek Hays, Patient Flow Summit Executive Director. "We are glad that Summit attendees will have a chance to hear from him at this year's event. He brings proven process and expertise for hospital leaders to learn from."
In its 8th year, the annual Patient Flow Summit brings together hospital administrators and other healthcare professionals who are focused on improving hospital operations and the quality of patient care. Leaders from hospitals across the country will present on a variety of topics such as readmission reduction, capacity management, and population health. This year's event will be at the JW Marriott Las Vegas Resort & Spa, May 4-7.
Organizations presenting at the 2015 Summit include: The Advisory Board Company, Intermountain Healthcare, Robert Wood Johnson, UCLA Health, New York-Presbyterian, The Ottawa Hospital, UW Health, Maimonides Medical Center, The University of Chicago Medicine, Tampa General Hospital, Legacy Health, Eastern Maine Medical Center, Community Regional Medical Center, Presbyterian Medical Group, and the New Jersey Hospital Association.
About Dr. Eugene Litvak:
Eugene Litvak, Ph.D, is President and CEO of the Institute for Healthcare Optimization and an Adjunct Professor of Operations Management in the Department of Health Policy & Management at the Harvard School of Public Health. Dr. Litvak is an author of more than 60 publications in the areas of operations management in healthcare delivery organizations. He is the editor of The Joint Commission's patient flow book Managing Patient Flow in Hospitals: Strategies and Solutions, 2nd Edition, and the leader of the organization's first patient flow seminars. He was a member of the IOM Committees "The Future of Emergency Care in the United States Health System" and "The Learning Health Care System in America" and is currently a member of the IOM's "Committee on Optimizing Scheduling in Health Care." Dr. Litvak also served as a member of the "National Advisory Committee to the American Hospital Association for Improving Quality, Patient Safety and Performance."
About The Institute for Healthcare Optimization:
The Institute for Healthcare Optimization (IHO) is an independent not-for-profit 501(c)(3) research, education and service organization that brings together knowledge of operations science with clinical, analytic, and organizational expertise to drive practical, high-impact improvements in healthcare. The mission of the Institute is to serve as a catalyst and to provide a vehicle for spreading the application of operations management and patient flow variability management techniques across the broader hospital community, as well as other parts of the healthcare delivery system. For more information, visit IHO's Web site at http://www.ihoptimize.org.
About the Patient Flow Summit
The Patient Flow Summit brings healthcare leaders and like-minded technology vendors together to discuss hospital operational efficiency. Attendees represent hospitals from across the United States as well as international locations. Central Logic is the managing sponsor of the event. Additional exhibitors at the 2015 event include: McKesson, Qmatic, ProModel, Qnomy, and AMR. Learn more about the 2015 Summit and the workshop at patientflowsummit.com.