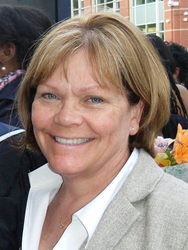 Columbia, MD (PRWEB) February 18, 2015
To recognize Gum Disease Awareness Month this February, Dr. Patricia Stoker reaches out with education and treatment options against gum disease that Columbia, MD people have lived with in between dental visits. With early intervention, gum disease is simple to treat. With the neglect of dental health, though, the nearly invisible early effects of the disease are easy to miss. The most common cause of tooth loss is gum disease, but fortunately lost teeth do not necessarily mean a life with dentures anymore. With dental implants that Dr. Stoker places in a simple office procedure, her patients enjoy the benefits of stable replacement teeth that can last a lifetime with good dental hygiene.
Gum disease in Columbia, MD is not something most people think much about. Caused by bacteria that naturally occur in the mouth, gingivitis is the first stage of the progressive condition as the germs begin to accumulate along the gum line. Symptoms can be subtle and easy to dismiss at first, such as:

Swollen or painful gums on occasion
Reddish discolored gum tissue
Bleeding gums with brushing or eating
Persistent mouth odor or bad breath
Receding gum line
Soon, though, gingivitis advances to periodontitis if left untreated. Allowed to thrive with inadequate brushing and flossing and irregular dental visits, the bacteria begin to create pockets in the gum tissue to harbor larger communities of germs. Severe damage can result in delicate tissues of the teeth and gums, even tooth loss, if advanced periodontitis continues to progress unchecked.
When tooth loss occurs, traditional solutions are often temporary. Dentures come with a host of challenges and complications, and need to be replaced every ten years or so. During that time they contribute to bone loss. The jawbone relies on stimulation from the roots of the teeth to stay healthy. Dental implants that Dr. Stoker places bond with the bone to provide stimulation with chewing that the bone requires to remain healthy. The replacement teeth look and feel natural, and last a lifetime with good dental care.
Gum disease in Columbia, MD is a stealthy epidemic that can be treated with ease if spotted early. This Gum Disease Awareness Month in February learns more about the dangers of gum disease. Call (443) 393-2203 to schedule an appointment to learn more about how dental implants are giving people new hope for a life of complete oral health.
About the Doctor
Dr. Patricia S. Stoker is a general dentist bringing personalized dental care to patients in Columbia, MD with over 20 years of private practice experience. Dr. Stoker graduated from the University of Maryland, Baltimore College of Dental Surgery, and she was selected for the prestigious General Practice Residency at Sinai Hospital in Baltimore, where she received intensive training in advanced dentistry. To learn more about Dr. Stoker and her dental services visit her website at http://www.columbiamarylanddentist.com and call (443) 393-2203.