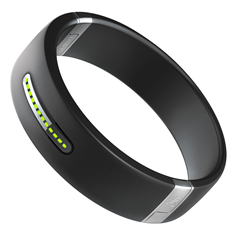 This is the perfect band for my active lifestyle!
(PRWEB) February 19, 2015
"JayBird" was featured on NewsWatch as part of its monthly Tech Report, which takes a look at the latest and coolest technology products and services available to consumers. Scott Steinberg, a special reporter for NewsWatch and a technology expert, conducted the review and shared with viewers how this is a fitness band for people who are already active.
Wearable technology is always extremely popular at the Consumer Electronics Show, especially in the fitness category. The most popular trackers focus on encouraging people to get out and increase their activity. Well, Jaybird decided to take a different approach and show off a band for already active people.
Since 2005, the team at JayBird wanted to integrate technology into their already active lives. So they took that idea and created the Reign activity tracker. This activity band doesn't just track steps, but it tracks if a person is swimming, biking, running, and all the sports that they do.
Reign also uses a technology called heart rate variability, meaning that the band measures the milliseconds between heartbeats. This means that the tracker can tell when a person's body is ready to be active, when they need to recover, or when they need to take it easy. All this information is wirelessly sent to a person's phone and displayed on an app that works in conjunction with the band.
JayBird's Reign is great for anyone that likes to get up and get moving. It's life proof, waterproof, and available in 3 colors. Is a person wants to buy the Reign, they can purchase it for $199.95.
To learn more, visit http://www.jaybirdsport.com today.
About NewsWatch
NewsWatch is a weekly 30-minute consumer oriented television show that airs on the History Channel, FYI Network, and ION Network. NewsWatch regularly features top technology products and services, mobile applications for iOS, Android, and Windows devices, unique and beautiful travel destinations around the world, health and medical tips, and entertainment interviews on the show. NewsWatch airs on the History Channel at 6:00 – 6:30 AM ET/PT and on the FYI Network from 7:00 – 7:30 AM ET.
NewsWatch is located in the greater Washington, DC area and has been on the air for over 25 years. For more information or to watch the most recent episode, visit http://newswatchtv.com/appwatch.html.