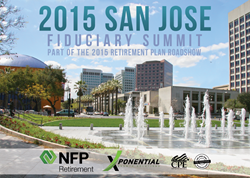 The 2015 San Jose Fiduciary Summit will give plan sponsors a forum to interact with leading local experts who will share the latest trends, best practices and new definitions of a successful plan.
San Jose, CA (PRWEB) February 27, 2015
Xponential Growth Solutions is pleased to announce the 2015 San Jose Fiduciary Summit, hosted by NFP Retirement, as part of the national Retirement Plan Roadshow, celebrating four years of successful educational workshops. The summit will allow guests to interact and network with organizations represented by CFOs, HR Directors and Business Owners. These industry experts will provide insights to help employers reduce fiduciary risk, identify plan enhancements and make better decisions that positively impact participants.
John Spach, Managing Director at NFP Retirement, emphasized, "The 2015 San Jose Fiduciary Summit will give plan sponsors a forum to interact with leading local experts who will share the latest trends, best practices and new definitions of a successful plan. The future of retirement plans revolves around having the right plan with the right provider, at the right price, while also helping employees make well-informed investment decisions to be able to retire with financial security."
Spach will host the event which will feature informative fiduciary discussions including:

Financial Wellness & Participant Resources
What Every Fiduciary Needs to Know for 2015
Plan Design & Creating Successful Outcomes
Ask the Expert: Local Professional Panel
Evaluating Reasonableness of Plan Fees
RFP Best Practices
As an exciting supplement to this year's conference, registered guests will have the option to join a complimentary VIP tour of the new home of the San Francisco 49ers, Levi's® Stadium. Following the summit, guests will be guided through a 90-minute VIP tour of the new state-of-the-art facility which will host the 2016 Superbowl. The tour also includes access to the 49ers Museum which features 11 unique gallery and exhibit spaces.
The 2015 San Jose Fiduciary Summit is the fourth stop of the 2015 Retirement Plan Roadshow and will be held on May 5th, 2015 at The Hyatt Regency Santa Clara located at 5101 Great America Parkway, Santa Clara, CA 95054 from 8:30 am to 11:30 am (breakfast will be served) and will be followed by the optional VIP tour of Levi's Stadium. The San Jose Fiduciary Summit is approved for 3 CPE/CPA credits and 3 HRCI general credits. Seating is limited and priority will be given to local plan sponsors, with a waived $150 registration fee available on a limited basis. Additional details and registration information can be found by visiting:
http://xgrowthsolutions.com/retirement-events/2015/05/2015-san-jose-fiduciary-summit/
About NFP Retirement
NFP Retirement, Inc. (NFP Retirement) focuses on retirement plan consulting. As one of the largest independent retirement plan advisory firms in the country, with over $33 billion in assets under advisement (as of 01/01/2015), the firm serves hundreds of plan sponsors nationwide at private, public and nonprofit organizations. NFP Retirement helps create successful retirement plan outcomes for plan sponsors and plan participants.
For more information, please visit: nfp.com/retirement.
About NFP
At NFP (National Financial Partners), our solutions and expertise are matched only by our personal commitment to each client's goals. We are a leading insurance broker and consultant that provides employee benefits, property & casualty, retirement, and individual insurance and wealth management solutions. Our registered investment adviser and broker-dealer empowers independent financial advisors with integrated technology, subject matter expertise and a suite of customized services.
NFP has more than 3,200 employees and global capabilities. Our expansive reach gives us access to the most highly rated insurers, vendors and financial institutions in the industry, while our locally based employees tailor each solution to meet our clients' needs. We have become one of the largest insurance brokerage, consulting and wealth management firms by building enduring relationships with our clients and helping them realize their goals.
Recently NFP was ranked by Business Insurance as the 5th largest global benefits broker by revenue, the 4th largest US-based privately owned broker and the 11th largest broker of US business. In addition, PlanSponsor named NFP the 5th largest executive benefits provider of nonqualified deferred compensation by number of plans. Our independent broker-dealer ranked 11th in annual revenue by Investment Advisor, and Rep ranked it the 6th highest in advisor production by assets under management.
For more information, visit http://www.nfp.com.
About Xponential Growth Solutions
Xponential Growth Solutions (XGS) unites 401(k), 403(b) and retirement plan sponsors with elite resources and exclusive connections. Through research, fiduciary summits, and industry expertise, they help the nation's retirement plan sponsors, fiduciaries, and trustees evaluate their plan and navigate the retirement plan industry. Working to help America reach their retirement goals one retirement plan at a time, XGS also founded the Retirement Plan Roadshow, a national series of fiduciary educational summits dedicated to human resources, finance and business professionals in charge of America's 401(k), 403(b), and retirement plans.