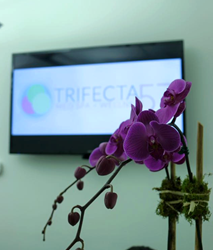 Trifecta 57 Med Spa will help clients feel refreshed and as beautiful as ever
New York, NY (PRWEB) February 20, 2015
The Grand Opening of a new and accessible location in Midtown, Manhattan - Trifecta 57 Med Spa & Wellness. Located right across from Carnegie hall on 57th street and 7th avenue, providing luxury experience, as well as stellar customer service by top NYC doctors and professionals. New, convenient location is a relaxing and friendly environment that allows for the utilization of top treatments. Along with the soothing environment, team of professionals will work with the latest technology to offer rewarding youth and vibrancy.
Trifecta 57 Med Spa and Wellness offers the latest neurotoxins and dermal fillers existing in the US market, including Botox, Dysport, Xeomin— and dermal fillers such as Juvederm, Voluma, Radiesse, Restylane, Restylane Silk, Perlane and Belotero. These treatments are used by highly trained professional doctors to smooth out fine lines and wrinkles, as well as to augment certain features and diminish those which are unwanted, in order to contribute to a more youthful appearance.
Laser Hair Removal treatments are done with one of the best modern lasers available— the Lumenis LightSheer Infinity. Customized treatment for every skin type, Laser Hair Removal treatment with LightSheer Infinity can be utilized at any time of the year— even for already tanned skin. An extremely safe and comfortable procedure work wonders and is a powerful element in the battle against unwanted hair growth. The Trifecta 57 Med Spa and Wellness in NYC is one of the first clinics to include this new and innovative technology.
For Photo rejuvenation treatments Trifecta use Lumenis M22 IPL laser - the latest laser in the field of cosmetic dermatology. Its unique technology combines the best IPL photofacial with the most effective non-ablative fractional treatment in one device!
With the PRP Trifecta Facelift, the revolutionary Platelet-Rich Plasma Stem Cell Therapy technology developed by Dr. Fruitman, M.D. can work to rejuvenate skin in a completely natural and holistic way. Ultherapy, a new and FDA approved skin lift, does not require any surgery or downtime and is perfect for those who are looking to enhance their appearance in a painless and simple way.
In addition to these treatments, Trifecta 57 Med Spa state of the art medical spa also offers the HydroFacial — ideal for signs of aging, loss of collagen and skin impurities— these can all be easily treated by our relaxing, 30-minute HydraFacial treatment. Clients can come in for pampering for a Spa day— or simply set apart 30 minutes of the day— and the Trifecta 57 Med Spa will refresh and beautify. With the new technology available to clients, there is no reason not to get rid of fine lines and sagging skin— appointments and maintenance treatments can easily be fit into the busy schedules of New Yorkers, such as during a lunch break or after a long day of work. There is no reason to say no to the body everyone is dreaming of.
With the new Midtown location on 57th Street and 7th Avenue— Trifecta Med Spa has the branch in Hewlett, NY - Trifecta Med Spa Long Island and in Financial District New York - Trifecta Med Spa Wall Street NYC.