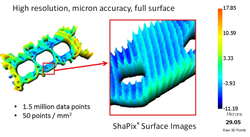 ShaPix is a breakthrough in the measurement of critical surface shapes. Metrology breakthroughs like ShaPix advances manufacturing to the next level
Ann Arbor, Michigan (PRWEB) February 19, 2015
A major automotive OEM improves quality and throughput of engine head production by
designating Coherix ShaPix System as the gauge of record for critical surfaces measurements in their dimensional control plan. The OEM gains by obtaining a complete surface measurement of a head to insure part specifications are being met. Until now the OEM had to rely on traces on a part surface, which is incomplete information leading to potential engine leaks and reduced throughput. Now they know if their engine heads meet their specification.
A Control plan is a written description of the measurement systems for controlling manufacturing processes. Utilization of the Coherix ShaPix in a control plan can identify process variation, so corrective action can be taken resulting in improved quality and lower costs. With the Coherix ShaPix system the OEM has the ability to measure Local Zone Flatness, Overall Flatness, and Total surface Waviness, which measures variation on a surface for potential problems. Because a Coherix ShaPix system measures 4 million points on a surface in less than a minute, it is an industry leading differentiator.
Dwight Carlson, CEO Coherix, states "ShaPix is a breakthrough in the measurement of critical surface shapes. Metrology breakthroughs like ShaPix advances manufacturing to the next level".
Coherix designs and delivers high-speed, high-definition, 3D metrology and inspection tools for product development and the management of manufacturing processes for the precision manufacturing and semiconductor industries. Headquartered in Ann Arbor, Michigan the company has technical centers in Europe and the Asia Pacific region. Coherix products are being utilized around the world at companies such as ASE, SPIL, Marvell, BorgWarner, Ford, Honda, Allison Transmission, Chrysler, General Motors, Micron, Infineon, John Deere, Volvo Technology Transfer and Aisin among others.