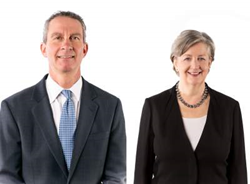 Atlanta, GA (PRWEB) February 19, 2015
Gaslowitz Frankel LLC, Georgia's premier fiduciary litigation and estate dispute resolution law firm, is pleased to welcome its newest partners Robert C. Port and Millie Baumbusch.
Robert Port has over 30 years of experience in civil litigation, arbitration, and mediation. In addition to handling business and contract disputes, and will, trust, estate, and other fiduciary disputes, Robert has an emphasis on representing investors harmed by the misconduct of their stockbroker, investment advisor, insurance agent, or other trusted advisor.
Robert has handled court and arbitration cases across a broad range of financial misconduct, including cases arising from inappropriate investment strategies, unsuitable sales of annuities and life insurance products, failed or unlawfully offered private placements, real estate investment trusts (REITs), excessive trading (churning), unauthorized trading, sale of unregistered securities, and losses suffered as a result of Ponzi schemes.
Robert is AV rated by Martindale-Hubbell, and has been repeatedly selected as a Georgia Super Lawyer. He is the Editor of Georgia Business Litigation, a one-volume, comprehensive guide to subjects that business litigators often encounter in their practices, published by the Daily Report and American Law Media (ALM). He also publishes and lectures on investing, securities litigation, and arbitration, including articles in both legal and general interest publications. He has been interviewed and quoted by a variety of media outlets, including the Wall Street Journal, The Atlanta Business Chronicle, the Atlanta Journal-Constitution, and the Daily Report.
Millie Baumbusch is a litigator specializing in trust and estate matters. This includes contested will cases, claims regarding trust and estate accountings, claims for breaches of fiduciary duty and abuses of powers of attorney, and a variety of disputes involving trust and estate holdings in companies and partnerships.
A significant portion of Millie's practice involves contested adult guardianships and conservatorships. Millie is certified in civil collaborative practice. She has made CLE presentations and lectured on guardianships, how to avoid estate disputes, and other related topics.
Prior to beginning her law practice with Gaslowitz Frankel, Millie was a lending officer to middle market companies at a New York money center bank. During her time there she held several positions in strategic planning and market research. Millie currently serves on the Board of Directors of The ALS Association Georgia Chapter. Millie joined Gaslowitz Frankel in 2007.
_____________________________________
ABOUT GASLOWITZ FRANKEL, LLC: Gaslowitz Frankel is an experienced trial practice firm specializing in all aspects of complex fiduciary litigation throughout Georgia and the Southeast. With a focus on representing individuals, companies, banks, and fiduciaries in disputes involving wills, estates, trusts, businesses and contracts, and securities law, our experienced and highly qualified litigation attorneys have tremendous credentials and a proven history of success.