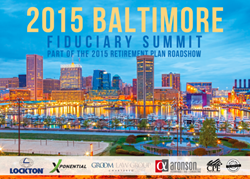 With 401(k) plans now the dominant retirement plan vehicle for most employers and employees, it is critical to design and maintain a compliant and well-designed plan to meet overall objectives..
Baltimore, MD (PRWEB) February 27, 2015
Xponential Growth Solutions is pleased to announce the 2015 Baltimore Fiduciary Summit as part of the national Retirement Plan Roadshow, celebrating four years of successful educational workshops. The summit will allow guests to interact and network with organizations represented by CFOs, HR Directors and Business Owners. These industry experts will provide insights to help employers reduce fiduciary risk, identify plan enhancements and make better decisions that positively impact participants.
Tom Clark, Jr. , Senior Vice President at Lockton Retirement Services, emphasized, "With 401(k) plans now the dominant retirement plan vehicle for most employers and employees, it is critical to design and maintain a compliant and well-designed plan to meet overall objectives."
Tom Clark, Jr. will be joined by guest speakers:

Nate Siegel, Vice President at Lockton Retirement Services
Diane Gallagher, VP DCIO Practice Management – American Century
Sam Henson, Former Senior DOL Investigator and Manager of Compliance at Lockton Retirement Services
David Levine, Principal at Groom Law Group
Kathryn E. Petrillo, Partner - Employee Benefit Plan Services Group – Aronson LLC
Stuart Ritter, VP & Senior Financial Planner - T. Rowe Price
Topics of Discussion Include:

Total Rewards & Wellness – Crafting & Implementing Retirement & Health Plan Strategies
What Every Fiduciary Needs to Know for 2015
Ask the Expert – Local Professional Panel
Plan Sponsor Panel – Insights from Your Local Peers
2015 Economic Update
RFP Best Practices
The 2015 Baltimore Fiduciary Summit will be held on April 22nd, 2015 at the Center Club located at 100 Light Street 16th Floor, Baltimore, MD 21202 from 11:30am - 3:00 pm (lunch will be served). The Baltimore Fiduciary Summit is approved for 3 CPE/CPA credits and 3 HRCI general credits. Seating is limited and priority will be given to local plan sponsors, with a waived $150 registration fee available on a limited basis. Additional details and registration information can be found by visiting:
http://xgrowthsolutions.com/retirement-events/2015/04/2015-baltimore-fiduciary-summit/
About Lockton Retirement Services
Lockton Retirement Services provides advocacy and advice to help companies and organizations maximize the value of their retirement plans by improving plan design and increasing participation. Lockton provides advice to increase compliance while reducing costs and administrative burdens.
More than 5,300 professionals at Lockton provide 41,000 clients around the world with risk management, insurance, and employee benefits consulting services that improve their businesses. From its founding in 1966 in Kansas City, Missouri, Lockton has attracted entrepreneurial professionals who have driven its growth to become the largest privately held, independent insurance broker in the world and 10th largest overall.
Securities offered through Lockton Financial Advisors, LLC a registered broker-dealer and member FINRA, SIPC. Investment advisory services offered through Lockton Investment Advisors, LLC, a SEC registered investment advisor. For California, Lockton Financial Advisors, LLC, d.b.a. Lockton Insurance Services, LLC, license number 0G13569.
This message and any attachments may contain information that is privileged, confidential and exempt from disclosure under applicable law. If you are not the intended recipient (or not authorized to act on behalf of the intended recipient) of this message, please do not disclose, forward, distribute, copy, or use this message or its contents. If you have received this communication in error, please notify us immediately by return e-mail and delete the original message from your e-mail system.
Nothing in this message should be construed as legal advice. Lockton may not be considered your legal counsel and communications with Lockton's compliance services group are not privileged under the attorney-client privilege.
Circular 230 Disclosure: To comply with regulations issued by the IRS concerning the provision of written advice regarding issues that concern or related to federal tax liability, we are required to provide to you the following disclosure: unless otherwise expressly reflected herein, any advice contained in this document (or any attachment to this document) that concerns federal tax issues is not written, offered or intended to be used, and cannot be used, by anyone for the purpose of avoiding federal tax penalties that may be imposed by the IRS or promoting, marketing or recommending to another party any matters addressed in this document or any attachment.
About Xponential Growth Solutions
Xponential Growth Solutions (XGS) unites 401(k), 403(b) and retirement plan sponsors with elite resources and exclusive connections. Through research, fiduciary summits, and industry expertise, they help the nation's retirement plan sponsors, fiduciaries, and trustees evaluate their plan and navigate the retirement plan industry. Working to help America reach their retirement goals one retirement plan at a time, XGS also founded the Retirement Plan Roadshow, a national series of fiduciary educational summits dedicated to human resources, finance and business professionals in charge of America's 401(k), 403(b), and retirement plans.