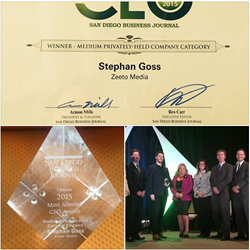 Our team here his amazing. They are so talented in what they do. It's because of them Zeeto keeps being recognized with these outstanding awards.
San Diego, CA (PRWEB) February 19, 2015
The Most Admired CEO Awards is the pinnacle event in San Diego that recognizes the region's best and brightest leaders in the business community. This year the San Diego Business Journal (SDBJ) presented Zeeto CEO, Stephan Goss with the 2015 Most Admired CEO award in the medium sized, privately-held company category. With a record 131 finalist this year, the distinction takes on an even greater honor for Goss and his team at Zeeto. "Our team here his amazing," commented Goss. "They are so talented in what they do. It's because of them Zeeto keeps being recognized with these outstanding awards."
Since becoming CEO of the flourishing technology company, Stephan has more than doubled Zeeto's revenue, bringing in over $32.5 million last year. Considering that the company is just four and a half years old, started in 2010, it's a testament to the leadership and practices Stephan has implemented. He and his team have built Zeeto into one of the nation's top online lead generation companies, totaling over 50 million leads in 2014. Their flagship properties, Samples.com and GetItFree.us have cornered the coupons, deals and free samples market, attracting an average of 9 million visitors a month, while producing 7+ million redemptions in the last ten months. Unlike many lead gen companies, Zeeto operates its own websites and builds in house proprietary technology, creating high ROI leads for clients across all verticals.
Business achievements and various company stats were not the only things that caught the eye of SDBJ when choosing Goss for this honor. From day one he has incorporated some of the finest perks of any company in San Diego. Zeeto boasts two full time chefs that provide daily breakfast and lunch. A fully stocked kitchen with more amenities than you can imagine. The company brews their own beer – affectionately dubbed "Zeeto Brew" and barrel ages Manhattans. Who has an office masseuse that comes in twice a week? Zeeto does. Employees are encouraged to bring their dogs to work. They have a hair stylist… laundry service…free annual tax service…yoga instructor, the list goes on. And when the pampering gets to be too much, employees can hop into the ping pong room for a quick match – maybe challenge someone to a game of darts, foosball, chess, PlayStation? Outside the office the company sponsors monthly happy hours with free Uber rides and a $2500 entertainment budget. Paid field trips to Padres games, the Del Mar Horse Races, ski trips and brewery tours keep this company acting more like a big family.
Stephan is a believer in giving back to the community and getting involved with local issues that will make San Diego a better place to work and live. He is a supporter of various non-profits and civic groups that include: Family Health Centers of San Diego, the San Diego SWAT Association, San Diego City College, the USO, SILO in Makers Quarter and the Surfrider Foundation. Stephan sits on the Board of Directors for the Downtown San Diego Partnership (DSDP) where he served as past Chairman of the Tech Startup Committee.
Under Goss' leadership, Zeeto is fortunate to have been the recipient of many prominent awards. The SDBJ recognized Zeeto as the #2 Best Place to Work in San Diego for a medium sized company. The U-T San Diego awarded Zeeto the grand prize for Top Workplace Excellence. And the DSDP presented Zeeto with the coveted Alonzo Award for their efforts that have contributed significantly to the enhancement and enrichment of downtown San Diego.
About Zeeto:
Zeeto is a technology company that specializes in generating high ROI leads for clients across all verticals. With over 50 million leads generated in 2014, Zeeto has become a powerhouse in the performance based online marketing industry. Our proprietary cutting edge technology uses custom in-house analytics and complex optimization algorithms to create a dynamic user experience that delivers the highest quality leads for online marketers, agencies and brands.
Recognized as one of the Top 5 Places to Work in San Diego, we have some of the most creative minds and talented people in the industry.