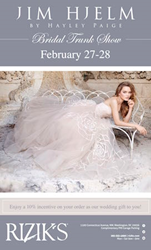 Something that is provoking and elegantly iconic, while maintaining a polished and sophisticated esthetic.
WASHINGTON, DC (PRWEB) February 19, 2015
Rizik's, Washington's leader in women's designer fashion and couture for more than a century, is offering three exciting bridal events in February and March featuring world-class designer wedding gowns from Europe and America that are sure to enthrall any bride-to-be with the exclusive style and service that befits the most important day in her life.
Rizik's is hosting international bridal gown designers Jenny Packham and Jim Hjelm for Washington-area spring collection trunk shows at its downtown Washington location February 19-21 and February 27-28, respectively, followed on March 1 by a special "Engaged Washington" wedding showcase at the historic Willard Hotel from 3:00 to 7:00 p.m., where Rizik's will be the featured wedding gown boutique.
One of the UK's most successful and independent fashion brands with global recognition, Jenny Packham has become the design house of choice when it comes to evening dressing and bridal wear. Rizik's is Jenny Packham's exclusive Washington, D.C. area distributor.
Launched in 1988, Packham's distinctive signature style has contributed to revolutionizing the bridal industry, introducing a contemporary approach to design and styling. Jenny Packham has flagship stores and showrooms in London, Paris, New York and Hong Kong. The collections are available at the world's most discerning stores, including Rizik's. Red carpets the world over are graced with Packham's designs worn by the most iconic, talented and influential women of our generation including: Taylor Swift, Uma Thurman, Angelina Jolie, Emily Blunt, Kate Winslet, Dita von Teese, Kate Hudson, Oscar winner Adele Adkins and The Duchess of Cambridge.
Jim Hjelm features gowns that satisfy the most discerning bride. Jim Hjelm is known for unique detailing and combining luxurious fabrics with delicate embroidery. The Jim Hjelm collection is diverse; ranging from gowns made of vintage-inspired fabrics to modern silhouettes, all with gorgeous details that make the gowns a joy to wear.
Celebrated young designer Hayley Paige recently assumed the lead role for the Jim Hjelm bridal collection. Widely recognized as the premier young talent in bridal design, her creations appeal to the flirtatious side of femininity. "The Jim Hjelm bride has long been a signature of grace and modernity," said Ms. Paige, who looks forward to reinvigorating the line's spirit; delivering "something that is provoking and elegantly iconic, while maintaining a polished and sophisticated esthetic."
As part of both the Jenny Packham and the Jim Hjelm trunk shows Rizik's will offer a special 10-percent price incentive on all orders. Interested parties are encouraged to call ahead to reserve appointments.
On March 1 Rizik's will be the featured wedding gown boutique to exhibit at the "Engaged Washington" special bridal event at the Willard Hotel from 3:00-7:00 p.m., featuring representatives from Washington's finest wedding vendors. Rizik's will display a wide selection of gowns from its many designers with a live model on hand to bring the gowns to life. Tickets are available online at http://www.engagedmagazine.com/dc.
About Rizik's
Founded in 1908, for more than a century Rizik's has remained Washington's leader in women's fashion and couture featuring international designers, unmatched personal service and an exquisite selection of bridal, eveningwear, outerwear, furs, sportswear, business attire and accessories. A local, family-owned business, Rizik's has a history of serving the women of official Washington society and is building on that legacy today with a clientele of fashion-conscious women of all ages in sizes 2-22. Visit Rizik's at http://www.riziks.com.
###