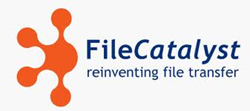 FileCatalyst is simply the fastest, most efficient, and most cost effective way to move files around the world
Ottawa, Canada (PRWEB) February 19, 2015
Unlimi-Tech Software, Inc., a pioneer in managed file transfers and the creator of FileCatalyst, an Emmy® Award winning accelerated file transfer solution, is excited to announce they will be attending BVE 2015.
From February 24-26, members of the FileCatalyst team will be in London, England, attending BVE 2015 in stand R40. BVE 2015 is being held at the Excel London, and FileCatalyst will be exhibiting the latest updates to their file transfer solutions. The FileCatalyst team will be on hand to provide demonstrations of their accelerated file transfer products, in particular how they work in the media and broadcast industry, answering any questions, and giving away an Apple TV. Attendees will also be able to schedule meetings with FileCatalyst to discuss individual file transfer needs.
BVE is the essential broadcast and production technology event, showcasing technologies and services for the production, management, and broadcast of audio visual content. With over 300 exhibitors and more than 15,000 industry professionals, BVE is a blend of products and services covering all aspects of the workflow.
"We are pleased to again return to BVE in London. The UK is an important region for FileCatalyst," says Chris Bailey, CEO of FileCatalyst. "We are continuing to grow our presence overseas and are excited to announce several new integration partnerships."
FileCatalyst channel partner ATG Danmon will be in stand M35, also showing FileCatalyst. "ATG are proud to represent FileCatalyst in the UK, FileCatalyst is simply the fastest, most efficient, and most cost effective way to move files around the world," says Christopher Elson, Product Sales Manager at ATG Danmon. "With a growing number of customers realising the benefits that FileCatalyst brings, FileCatalyst is becoming the UDP acceleration product of choice."
Also in attendance at BVE will be FileCatalyst partners, including: Cambridge Imaging Systems (N15), Focalpoint Server (L25), Forbidden Technologies (E34), Interra Systems (R19), NMR (D40), OOONA (P37), PlayBox Technology (F12), Square Box Systems (N36), Studio Network Solutions (L25), Suitcase TV (N33), Telestream (P16), Vidcheck (R16), Vizrt (L06), Wholer Technologies (L01), XenData (P35), and Xytech Systems (P04).
About Unlimi-Tech Software, Inc.
Located in Ottawa, Canada, Unlimi-Tech, a pioneer in managed file transfers, is the creator of FileCatalyst, an Emmy® Award winning accelerated file transfer solution. Founded in 2000, the company has more than one thousand customers in media and entertainment, energy and mining, gaming, and printing, including many Fortune 500 companies as well as military and government organizations. FileCatalyst is a software platform designed to accelerate and manage file transfers securely and reliably. FileCatalyst is immune to the effects that latency and packet loss have on traditional file transfer methods like FTP, HTTP, or CIFS. Global organizations use FileCatalyst to solve issues related to file transfer, including content distribution, file sharing, and offsite backups. To learn more visit filecatalyst.com or @FileCatalyst on Twitter.
About BVE
BVE is the essential broadcast and production technology event that attracts over 15,000 industry professionals who want to see the latest in broadcast and production technologies from the over 300 exhibitors. To learn more, visit http://www.bvexpo.com.