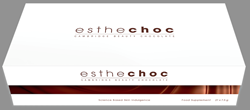 World's First Beauty Clinically Validated Anti-Ageing Chocolate based on CambridgeTechnology from Lycotec to be Launched in Europe Next Month
Cambridge UK (PRWEB UK) 18 February 2015
ESTHECHOC, the world's first Beauty Chocolate, will be presented next month at the Global Food Innovation Summit in London.
It is based on 70% Cocoa dark chocolate and represents a combination of two of the most powerful antioxidants with pleotropic anti-ageing properties – cocoa flavanols and marine carotenoid astaxanthin.
The blend of proprietary technologies behind the laboratory and clinical development of this product empowers these bioactive molecules to such a level that one 7.5g piece of ESTHECHOC delivers flavanol activity equivalent to 100g of dark chocolate, and astaxanthin to the level of 300g of wild Alaskan salmon.
The superior efficacy of ESTHECHOC over existing leading dark chocolate and food supplement products has been demonstrated in extensive clinical trials.
After 3-4 weeks of daily intake by 50-60 year old volunteers, the Beauty Chocolate was able to not only suppress markers of sub-clinical inflammatory damage in their blood, but also reverse their age-related depression of microcirculation and blood supply to such peripheral tissues as subcutaneous fat and skin.
This consequently resulted in a significant boost of oxygen delivery to these tissues and restoration of their respiration - the essential physiological need in controlling and supporting skin health.
According to clinical studies, ingestion of a piece of ESTHECHOC does not result in postprandial lipid- or hyperglycaemia, hence it does not contribute to calorie concerns and should be safe for people with diabetes.
The technology behind ESTHECHOC was developed by the Cambridge based company Lycotec – http://www.lycotec.com and the chocolate is to be commercialised by a spin off company, Cambridge Chocolate Technologies – http://www.cambridgechocolate.com.
Dr Ivan Petyaev, the inventor of the technologies and the director of Lycotec, stated that it took a number of years to convert the research, which originated from Cambridge University, to develop the functional chocolate portfolio.
Last year the company entered into a licensing deal with an investment company, Adiuvo S.A., a partnership which has enabled Lycotec products to now come to commercialisation.
Dr Marek Orlowski, the CEO of Adiuvo, stated that he is delighted that its first product from the partnership to come to the market is the Beauty Chocolate – ESTHECHOC.
It has already generated significant excitement and first orders amongst some of the world's leading cosmetic, health and nutrition companies.
ESTHECHOC will be launched on the market next month in the UK by a prestigious retailor, and in some countries across Europe by leading beauty companies.
For more information please contact info(AT)lycotec.com