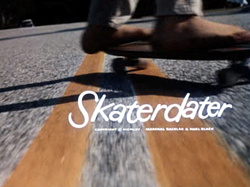 Santa Barbara, CA (PRWEB) February 20, 2015
She is better known for being the business mind behind one of Santa Barbara's most successful, highly regarded bakeries. But when she isn't developing marketing strategies for her husband's award-winning cakes and croissants, or running her daughter to school, gymnastics, or acting lessons, Nicole Gonthier is taking on a very personal project: getting her late father's short film admitted to the National Film Registry.
"It is a pledge I made to him just before he passed," says Gonthier, who, with her husband Renaud, owns Renaud's Patisserie. "I will spend the rest of my life, if necessary," she adds, "to try to make that happen."
Her father, filmmaker Noel Black, won the prestigious Palme D'Or Award at the 1966 Cannes Film Festival for the short film "Skaterdater," which he both wrote and directed. The film was later nominated for an Academy Award in the same category. "Skaterdater," which runs just over 17 minutes, was the first of its kind about skateboarding. A long-time Santa Barbara resident, Mr. Black -- who passed away last July at the age of 77 -- also directed the cult classic "Pretty Poison," starring Anthony Perkins and Tuesday Weld.
"I'm not exactly impartial, but I like to think that my father blazed the trail for the likes of Tony Hawk and Shawn White. It's pretty cool to put my dad in that kind of company. My daughter thinks so, too," Gonthier adds with a smile.
The film, which has over 30,000 views on YouTube, has broad appeal. "I have had so many people come up to me and tell me how much they love the film," Gonthier notes. "Their observations are so varied. I think that's because the film works on a number of levels. It's a coming of age story. It's a boy-meets-girl story. And it taps into the skateboard and surfer culture motifs that are so central to the Southern California vibe, which bands like the Beach Boys and Dan and Jean leveraged so successfully."
Others have noted that the film is an nostalgic homage to a bygone era. "I have had 40- and 50-year olds tell me that film reminded them of their adolescent years, even though a lot of those folks grew up in New Jersey or Florida or Colorado. It is that kind of universal appeal that resonated with the jurists at Cannes and the Academy of Motion Pictures, and it is why I think it's worthy of inclusion in the National Film Registry."
Such a distinction, however, won't be easy. The National Film Registry only accepts 25 films per year. 2014's list included such familiar movies as "Ferris Bueller's Day Off," "The Big Lebowsky," and "Willy Wonka & the Chocolate Factory," as well as some more obscure titles, such as 1980's "Moon Breath Beat." According to its website, the National Film Registry "works to ensure the survival, conservation, and increased public availability of America's film heritage." "That is a mission my father sincerely believed in," Gonthier notes. "He was an amazing story teller," she recalls. "I knew that as his daughter, of course. But fans of his films appreciated that talent of his, too."
Gonthier says that in order for lesser know titles such as "Skaterdater" to make the cut, the National Film Preservation Board needs to get input from the general public. "Let's face it," she says, "there is a lot of competition out there." But she hopes that by raising awareness and by getting more and more people familiar with the film, her father's new-found fans will lend their support. Santa Barbara is a very film-savvy community, she notes. That it hosts its very popular annual film festival is just one of many proofs. She has created a website, VoteSkaterdater.com, where people can learn more about the film, her filmmaker father, and how people can help.
"2015 marks the 50th anniversary of the film's release," Gonthier concludes. "I cannot think of a better way to honor my father and his legacy than by getting Skaterdater admitted to the National Film Registry."
Perhaps, with a little hard work and some Skaterdater "good vibrations," she might just succeed. //