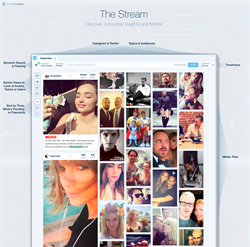 There is no longer a distinction between being a marketer or being a visual marketer - every marketer is a visual marketer.
San Francisco, CA (PRWEB) February 19, 2015
Chute, a visual marketing automation company, today announced Chute Insights, which allows companies to tap into a real-time visual stream of consumer photos and videos shared on Twitter and Instagram to uncover insights about their customers, brand, industry and competitors for an informed, robust marketing strategy. To extract more value, marketers and consumer analysts can filter the view to examine sentiment, purchase intent, geography and emerging trends. Chute Insights not only enables searches by keywords, but also by people, allowing brands to access and uncover affinities from an always-on focus group of customers, brand ambassadors or industry influencers.
"Marketers face the constant challenge of delivering meaningful, authentic content every day. There is no better way to create on-target messaging than to tap into the conversations consumers are already having about your brand, use the insights garnered to develop appropriate content and messaging, then propagate it to the world," said Ranvir Gujral, co-founder and CEO of Chute. "Chute Insights finally brings visual listening to marketers' analytics tools, an evolution from the text and chart based reports offered by existing platforms today. This reinforces our mission to give brands mastery over the world's visual media."
"Consumers are sharing their product experiences and opinions on social media every day. Brands must understand these conversations, which is particularly challenging since the most engaging media today is represented non-verbally through photos and videos," said John Battelle, co-founder of WIRED Magazine, Federated Media, and NewCo. "There is no longer a distinction between being a marketer or being a visual marketer - every marketer is a visual marketer. Chute Insights is the solution to automate this process of accessing the top of the information funnel, across text and visuals, to provide insights for a holistic marketing strategy."
"Media companies and publishers of all kinds are looking for new approaches to engage their audiences, create meaningful content and develop diverse revenue sources," said Ben Wirz, director of venture investments at the John S. and James L. Knight Foundation, which supports Chute through its Enterprise Fund. "By allowing a view into the chatter of the moment through rich data and analytics, Chute Insights will help these organizations learn about their audiences and what they care about, while experimenting with informed ways to tell stories through fan-created pictures and other visual media."
Chute Insights provides robust features which allow brands and publishers to:
● Discover Consumer Insights and Trends: Companies can monitor social media for images and videos shared about their brand, industry and competitors in real-time and organize by popularity, trends, content creators, or time. This allows them to discover emerging trends early on and participate in the conversation.
● Compare Industry and Competitive Benchmarks: Now brands can understand their share of voice within specific industries and competitive sets, as well as similarities and differences between consumer sentiment, behaviors, and geography.
● Take Action: Instead of burying customer photos and videos behind charts, Chute features them. This makes it easy to see great content, request permission to use that content, then publish it across all marketing channels - whether owned, earned or paid.
Chute's platform includes Chute Insights and Chute Workspace, which service the entire modern marketing organization, from the CMO responsible for corporate messaging, marketing, and advertising strategy to the social media manager looking for authentic content to utilize in UGC campaigns. Companies can now understand their brand's share of voice within the industry and determine a clear strategy for distributing only the best and most relevant content as it relates to photos and videos.
Learn more about Chute Insights at http://www.getchute.com/how-it-works/chute-insights/.
About Chute
Chute gives brands mastery over the world's visual media - from discovering audience content and influencers, to the ideation, production, and amplification of compelling visual material through its visual marketing automation platform, Chute Insights and Chute Workspace. Chute works with some of the world's biggest brands and publishers including Benefit Cosmetics, NBCUniversal, Adidas, Brown-Forman, Condé Nast, NBA, United Nations, New York Times, and Ford. For more information, visit http://www.getchute.com.