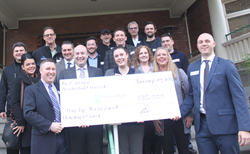 The possibility of our work comes, in part, through caring corporations like FirstService Residential
Vancouver, BC (PRWEB) February 19, 2015
FirstService Residential, the leading residential property management company in Greater Vancouver, has raised more than $30,000 in donations for the Canuck Place Children's Hospice. This past holiday season, the property management leader worked with twenty-five of the top vendors used by its strata corporation clients to raise money for the children's hospice, supporting local children with life-threatening conditions. The donation was presented to Canuck Place by representatives of FirstService Residential and its vendors.
"As B.C.'s recognized pediatric palliative care provider, we are here to help children and families of Canuck Place live in the moment and savour life together," said Margaret McNeil, Canuck Place CEO. "The possibility of our work comes, in part, through caring corporations like FirstService Residential. We are grateful for their investment and that of their vendor partners to support B.C.'s children with life-threatening illnesses and the families who love them."
To recognize the donation, FirstService Residential sent a holiday e-card to its clients, represented by more than 100,000 residents living in more than 450 strata properties across Greater Vancouver. "We are honoured to support the exceptional work of the Canuck Place team," said Scott Douglas, FirstService Residential B.C. President. "The tireless effort of the Canuck Place team to make a difference in the lives of children and their families is remarkable. The hospice is a true symbol of hope and community."
About FirstService Residential
FirstService Residential in British Columbia is a subsidiary of FirstService Corporation, a global leader in the rapidly growing real estate services sector, one of the largest markets in the world. As the leading property management company in North America, FirstService Residential oversees more than 6,500 residential and commercial associations including 1.5 million residential units and over 50 million square feet of commercial space across three provinces in Canada and 21 U.S. states. The company has more than 12,000 employees driving local market expertise and manages in excess of $6 billion in annual budgets. For more information, visit http://www.fsresidential.com/british-columbia/home.
About Canuck Place Children's Hospice
Canuck Place Children's Hospice is British Columbia's recognized pediatric palliative care provider. Over 560 newborns, children and teens with life-threatening illnesses and their families receive care from CPCH through outreach programs and two provincial hospice locations; Vancouver and Abbotsford. Services include clinical respite and family support, pain and symptom management, 24-hour phone consultation support and in-house clinical care, art and education, recreation therapy, grief and loss counselling and end-of-life care. Through the investment of the community, our talented team, and over 325 energetic volunteers we make a lasting difference in the lives of children and the families who love them. http://www.canuckplace.org