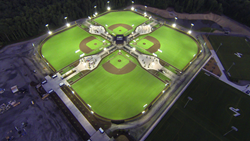 We're also very proud that these college programs will have the opportunity to play this weekend on the world's finest baseball fields
Emerson, Georgia (PRWEB) February 19, 2015
Twenty college baseball teams trying to escape the winter weather will head south this weekend to play on the Shaw Sports Turf fields at the Perfect Game South complex at LakePoint Sporting Community.
College baseball starts early in the year and many teams lose valuable practice and game time due to the weather and due to the residual effects of weather such as snow melt.
None of the 20 teams (16 NCAA Division I teams) will have to worry about losing playing time as they face off against each other on the four Shaw Sports Turf TruHop playing surfaces that have seen nearly 2,000 games since they opened last June. The fields are located at LakePoint Sporting Community which, at completion, will be the world's largest tournament sports destination. Already, four more Shaw Sports Turf fields are being installed at the Perfect Game South portion of the complex.
The TruHop system was designed by Shaw's R&D team, in conjunction with former Atlanta Braves pitcher, and newest Hall of Famer, John Smoltz. The entire playing surface was designed specifically with the nuances of baseball play in mind.
Perfect Game USA produces the highest level individual player showcases and team tournaments throughout the United States. Perfect Game South has developed into a proving ground for the most elite baseball talent.
"LakePoint Sporting Community and Perfect Game are two wonderful organizations and we are proud they have chosen to play on Shaw Sports Turf," said Jim Watts, Territory Manager for Shaw Sports Turf. "We're also very proud that these college programs will have the opportunity to play this weekend on the world's finest baseball fields."
The schedule for the event was released last night and is as follows:
Friday, February 20
12:00 p.m. Louisville Cardinals vs. Arkansas State Red Wolves
1:00 p.m. Chicago State Cougars vs. Nebraska-Omaha Mavericks
2:00 p.m. Georgia Highlands Chargers vs. Chattahoochee Valley Community College Pirates
2:00 p.m. UT-Martin Skyhawks vs. Western Michigan Broncos
5:00 p.m. Ohio Bobcats vs. Longwood Lancers
5:00 p.m. Eastern Kentucky Colonels vs. Southern Illinois Salukis
Saturday, February 21
9:00 a.m. Longwood Lancers vs. Ohio Bobcats
12:00 p.m. Eastern Kentucky Colonels vs. Southern Illinois Salukis
12:00 p.m. Nebraska-Omaha Mavericks vs. Chicago State Cougars
12:00 p.m. UT-Martin Skyhawks vs. Western Michigan Broncos
12:00 p.m. Louisville Cardinals vs. Arkansas State Red Wolves
3:00 p.m. Eastern Kentucky Colonels vs. Southern Illinois Salukis
3:00 p.m. UT-Martin Skyhawks vs. Western Michigan Broncos
3:00 p.m. Arkansas State Red Wolves vs. Louisville Cardinals
6:00 p.m. Morehead State Eagles vs. Dayton Flyers
6:00 p.m. Western Kentucky Hilltoppers vs. Evansville Purple Aces
7:00 p.m. Murray State Racers vs. Indiana Purdue Fort Wayne Mastodons
8:30 p.m. Brescia Bearcats vs. Holy Cross Saints
9:00 p.m. Western Kentucky Hilltoppers vs. Evansville Purple Aces
9:30 p.m. Murray State Racers vs. Indiana Purdue Fort Wayne Mastodons
Sunday, February 22
9:00 a.m. Brescia Bearcats vs. Holy Cross Saints
9:00 a.m. Ohio Bobcats vs. Longwood Lancers
12:00 p.m. Chicago State Cougars vs. Nebraska-Omaha Mavericks
12:00 p.m. Murray State Racers vs. Indiana Purdue Fort Wayne Mastodons
12:00 p.m. Eastern Kentucky Colonels vs. Southern Illinois Salukis
12:00 p.m. UT-Martin Skyhawks vs. Western Michigan Broncos
3:00 p.m. Brescia Bearcats vs. Holy Cross Saints
3:00 p.m. Murray State Racers vs. Indiana Purdue Fort Wayne Mastodons
3:00 p.m. Morehead State Eagles vs. Dayton Flyers
3:00 p.m. Western Kentucky Hilltoppers vs. Evansville Purple Aces
Monday, February 23
12:00 p.m. Morehead State Eagles vs. Dayton Flyers