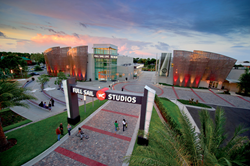 Orlando, FL (PRWEB) February 19, 2015
Full Sail University is proud to announce that 102 graduates are credited on 24 Oscar-nominated films across 20 categories at the 87th annual Academy Awards airing live on Sunday, February 22, 2015 on ABC.
Academy Award-winning Full Sail University graduate Gary Rizzo has been personally nominated for an Oscar in the Best Achievement in Sound Mixing category for his work on Christopher Nolan's film Interstellar. This is Rizzo's fourth Oscar nomination in the same category; he has previously been recognized for his work on The Incredibles and The Dark Knight, as well as being nominated and winning an Oscar for his work on Inception.
Full Sail graduates worked on films nominated in categories including: Best Picture, Best Animated Feature, Best Visual Effects, Best Editing, Best Sound Mixing, and many more. Among these categories, Full Sail graduates are credited on the nominated films: Interstellar, Birdman, The Grand Budapest Hotel, America Sniper, Whiplash, and Guardians of the Galaxy, just to name a few. This year graduates have worked on five out of the eight nominees in the Best Picture category.
"It is great to see so many of our graduates accomplish their goals of working in the film industry," said Anne C. Russell, Full Sail University Program Director of Film. "We are proud of their continued determination and excellence, and are excited to celebrate this remarkable achievement with them."
About Full Sail University:
Full Sail University is an award-winning educational leader for those pursuing careers in the entertainment and media industry. Founded in 1979, Full Sail has been recognized as one of the Top Five Game Degree Programs by Electronic Gaming Monthly, one of the Best Music Programs by Rolling Stone Magazine, and one of the Best Film Programs by UNleashed Magazine. In 2011, Full Sail received the "21st Century Best Practices in Distance Learning Award" from the United States Distance Learning Association, was named the "School/College of the Year" by the Florida Association of Postsecondary Schools and Colleges, and was recognized as one of the Top 100 Social Media Colleges by Studentadvisor.com.
Full Sail offers Master, Bachelor, and Associate campus and online degree programs in areas related to animation, art, business, education, graphic design, film, marketing, web development, music, recording arts, sports, and video games. Full Sail graduate credits include work on OSCAR®, Emmy®, GRAMMY®, ADDY®, MTV Video Music Award, and Spike Video Game Award nominated and winning projects.
http://www.fullsail.edu
http://www.twitter.com/fullsail
http://www.facebook.com/fullsailuniversity
http://www.fullsailblog.com