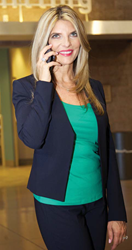 When you're in business, be ready to hear a lot of no(s) before you hear any yeses. You have to be persistent and at the same time patient and understand that 'No' doesn't really mean no. It just means 'Not right now'.
(PRWEB) February 24, 2015
Since 2002, Private Eyes has been a WBENC-Certified Women's Business Enterprise (WBE) and James has been an active contributor to the organization. James' election to the WBENC Board is recognition of her commitment to WBENC as a member of the Women Enterprise Forum, which serves in an advisory capacity to the WBENC Board, providing input and feedback on WBENC programs and other matters.
"We at the WBENC Forum were delighted to propose Sandra James who is dedicated to the growth of our organization and other WBEs," said Forum Chair and Arbill CEO Julie Copeland.
James has been honored on numerous occasions not just for her business excellence but also for her valuable contribution to business advocacy organizations. In 2009, she received the prestigious WBENC Women's Business Enterprise Star Award. In 2011, she was awarded the Woman Entrepreneur of the Year in Contra Costa County by the Bay Area nonprofit Women's Initiative for Self-Employment.
Through her business initiatives, Private Eyes Inc. and 4506-Transcripts.com, James has forged pioneering ways to deliver the highest quality and value of service to her customers. Honored to serve on the WBENC Board, James said, "Having fellow Certified-WBEs supporting you not only helps you to build your brand and reputation, but also your business. In addition to exposure to the Corporate Members who support WBENC, imagine having a customer list over 12,000 strong. By spending within the WBENC circle we help each other to grow."
In the words of Fernando Hernandez, chairman of Astra Women's Business Alliance board of directors, "James has always been engaged in supporting not only women, but minorities." As an exemplary women business leader, James is truly an inspiration not just for women entrepreneurs but for all those who are trying to tread on unbeaten paths of success.
About Private Eyes Inc.
Founded in 1999, Private Eyes Inc. is headquartered in Walnut Creek, California. Private Eyes is a leading provider of comprehensive pre-employment screening and background check services. Their commitment to delivering fast, accurate, and thorough results with less than 1% dispute rate has made them one of the top companies to work with. For more information about Private Eyes, Inc. and the services offered, go to http://www.privateeyesinc.com.
About WBENC
Founded in 1997, WBENC is the leading third-party certifier of businesses owned and operated by women, with over 12,000 WBENC-Certified WBEs. WBENC-Certification is accepted by more than 1,000 corporations representing America's most prestigious brands, in addition to many states, cities and other entities. Throughout the year, WBENC and its 14 Regional Partner Organizations provide opportunities for interactions between more than 650 member corporations, government agencies and thousands of certified WBEs at business building events and other forums. WBENC is a 501(c)(3) nonprofit organization that seeks and accepts donations from corporations, foundations and individuals that support its mission and programs. For more information, please go to http://www.wbenc.org.