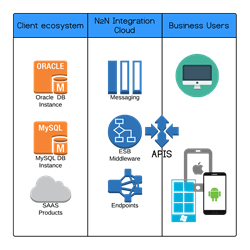 N2N Integration Cloud for educational institutions analogous to Amazon.com for bookstores. NIC offers educational institutions several options to connect their legacy/on-premise solutions to the cloud in a matter of days
Atlanta, GA (PRWEB) February 24, 2015
Universities and colleges across the US have large numbers of separate systems that all process critical information. Many of these systems may be hosted in the cloud while others run on campus. This leads to challenges when integrating these systems together. This is especially true if institutions don't have dedicated personnel trained in the technologies that are required. Fortunately, N2N has a solution in its Integration Cloud.
According to Joel Dunn, VP of Technology at N2N Services Inc. - "N2N Integration Cloud provides a completely hosted platform for Cloud Synchronization in an agile, cloud based educational ecosystem."
Since 2010, N2N Services Inc. has been working with innovative educational institutions on upgrading student services and student support systems, with the goal of transforming the current compartmentalized legacy systems to a more inclusive and modular educational technology ecosystem. N2N has developed a cloud-based Integration Platform as a Service (iPaaS) called the N2N Integration Cloud (NIC) to address these issues.
Using turnkey integration, NIC minimizes impact on an institution's staff and limited resources by eliminating the need for personnel trained in complex Enterprise Service Bus implementations. The N2N Integration Cloud provides adaptors to link both commonly used systems, such as Student Information Systems (SIS) and Learning Management Systems (LMS), while also providing a platform for N2N to develop custom adaptors to link to older legacy systems.
NIC particularly shines in the integration of Software as a Service (SaaS) applications. Most CIOs will agree that the best way to integrate SaaS systems is to use an Enterprise Service Bus, coupled with adapters and process management, something which N2N provides. Additionally, our talented subject matter experts also are there to handle professional services to support the NIC, providing the campus with more value for its dollar.
NIC has simplified integration and enabled increased functionality at institutions like the Virginia Community College System (VCCS) and at Brandman University. For VCCS, the NIC has enabled the 23 geographically dispersed colleges in the system to each integrate a local installation of the Augusoft Lumens continuing education/lifelong learning enrollment management software with a single instance of a Student Information System at the System office. At Brandman University, the NIC plays a critical role in establishing an agile Competency-Based Education (CBE) environment by connecting Student Information Systems, financial aid systems, digital textbook environments, courseware environments and learning platforms into a seamlessly integrated package.
Now, for a limited time, N2N is offering a special package of the N2N Integration Cloud called the "Starter Edition." N2N will provide one adapter for a standard SIS and one adapter for a standard LMS at a price that will make it easy for you to try and see the value for yourself with your own systems and data.
For more information about N2N, the Integration Cloud, or other N2N products and services visit http://www.n2nservices.com/cloud.html.