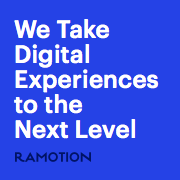 Denys Pakhaliuk, CEO: 'Previously, we focused only on design and development of mobile applications. Now, our team focus is to achieve results for a project using all possibilities of digital design and technologies.'
San Francisco, CA (PRWEB) February 23, 2015
Design agency representatives of Ramotion Inc. assert that the company has expanded its original focus from design and development of mobile apps only to the full range of services in creation of a digital experience for startups and businesses.
In addition, the agency's portfolio has some new items – among mobile apps, there appears large-scale web-projects, conceptual design, e-commerce and a dozen successful companies and popular startups. See portfolio
Alex Aharkov, CMO:
"In 2014, we collaborated with such interesting startups and companies as OSMO, GNEO, Over, Housing, Bitstrips, Hacker Rank, Octobird…and more. The experience gained in these projects led us to understanding the needs of our customers much better. Today, in Ramotion, we help startups and businesses grow – improve conversion, retain existing users, expand their user base, get a unique look and feel of their brand, etc. We help our clients achieve the goals of their projects and profit through planning, analytics, design, and development." About the agency and approach
About Ramotion:
Ramotion was founded in 2009 as a small private company, which performed design and programming of mobile applications orders for the local market. Today, the company has two offices in the U.S. San Francisco and Europe Krasnodar and provides a full range of digital services for startups and businesses around the world.
Contacts:
Alex Aharkov, CMO
alex(dot)a(at)ramotion(dot)com
Visit http://ramotion.com